Arsenal: Arsene Wenger says players 'desire' Gunners move
Last updated on .From the section Arsenal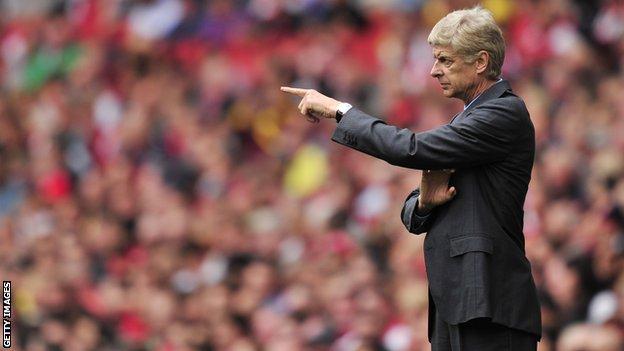 Arsene Wenger is sure he will add to his squad this summer as targets have told him they want to join Arsenal.
He has been linked with Real Madrid pair Karim Benzema and Angel Di Maria, and bid for Newcastle's Yohan Cabaye.
"I'm confident we'll make the signings we need because of the desire of the players to join us," said the manager.
In recent months Arsenal have failed with a move for Luis Suarez, seen their £10m offer for Cabaye rejected and not built on reported interest in Luiz Gustavo, Wayne Rooney and Gonzalo Higuain.
The frustration at this lack of activity was demonstrated in the shock Premier League opening weekend defeat by Villa at Emirates Stadium.
Despite the setbacks, Wenger insisted "anything could happen" before the transfer window shuts at 23:00 BST on Monday, 2 September.
"While we maybe don't have as much money as everybody writes, we have some funds available to do transfers," he said.
"We've worked on it very hard but it hasn't come off as quickly and as well as we wanted.
"You'd be surprised how early we acted. You can spend a lot of time - not going on holiday - and work on things without it coming off.
"In football you have to deal with any situation and be patient. As long as the window is open, anything can happen until the last minute."
As well as Benzema and Di Maria, Arsenal are understood to be interested in bringing in a goalkeeper and a defender.
Mathieu Flamini is also believed to be in talks about returning to the club on a free transfer - the midfielder previously left the Gunners to join AC Milan in 2008.