Kevin Nolan: West Ham captain retains England hope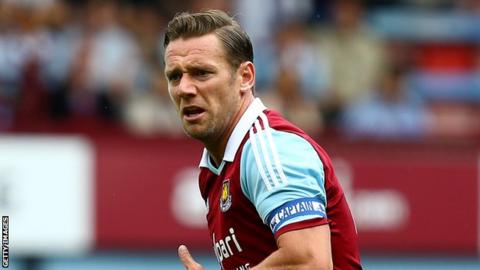 West Ham captain Kevin Nolan has not given up on representing England.
The 31-year-old midfielder has scored 62 goals in over 330 Premier League appearances but is yet to receive an international call-up.
He told BBC London 94.9: "I would love a call-up - there is nothing that would make me and my family more proud.
"I think I have deserved a call throughout my career. When I see the people who have got caps, I think I should have had a few."
Liverpool-born Nolan, who has been capped by England at Under-18 and Under-21 levels, acknowledges competition for national places is stiff but believes his record speaks for itself.
"When you look at the likes of Frank Lampard, who is still doing it in the Premier League, I think he has probably been the main culprit of why I haven't got many caps," Nolan continued. "Him and Steven Gerrard, and the way they have performed over the last 10 to 15 years.
"I have been growing up with them. If I was coming up with this new crop I think I might have got a few here and there.
"I have never been too far behind them. In terms of Premier League goals I am up there with the best. That is something I am proud of and it is never too late, as I feel I am getting stronger and fitter and better."
The former Bolton Wanderers and Newcastle United man believes his move from the Magpies to Upton Park in 2011 has helped breathe new life into his career.
After linking up with manager Sam Allardyce for the second time in his career, Nolan has scored 24 goals in his first two seasons in east London.
"I know what Sam Allardyce does to clubs and what he does for players," he said.
"As an individual, I knew that if I was to stay with Sam he would get the best out of me in my latter years as a professional footballer and give me the best chance to stay at the top of my game for as long as I can.
"In the past two seasons I have only got stronger and I am hoping to get better again this year.
"I am feeling great and staying clear of injury and that is a big bonus for me."
Nolan, who is now in his 14th full season as a professional having made his first-team debut as a 17-year-old for Bolton in 2000, also says that seeing Southampton striker Rickie Lambert score on his international debut for England last week has convinced him that he too has something to offer his country.
"You only have to look at Rickie the other day," he said. "He's the same age as me and I grew up with him, playing in teams in Liverpool with him and I was delighted for him.
"Hopefully I might get that call and if I do hopefully I'll take the chance, push on and maybe get a few caps and not just be a one-cap wonder."