Kenny Sansom sees 'light at end of tunnel' after alcoholism
Last updated on .From the section Football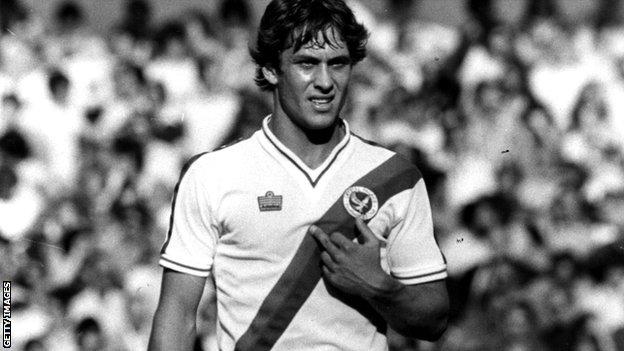 Former England and Arsenal defender Kenny Sansom wants to get his life back on track by working in football again after years of being an alcoholic.
Sansom, 54, was recently sleeping in a church yard but has been offered a coaching role and has begun working at former club Crystal Palace.
The former left-back, who has been sober for 13 days, said: "I've lost a lot and don't want to lose any more.
"I wake up every morning feeling great and you can't ask for much more."
Sansom, who earned 86 England caps and played in two World Cups, was put in touch with the Professional Footballers' Association via his partner, and the body have given him "light at the end of the tunnel".
"They have done everything," Sansom, who was recently drinking up to three bottles of wine a day, told Stephen Nolan on BBC Radio 5 live. "They have put me in places where I can stay, like a hotel, so I don't have to sleep on the streets. They don't want me to be homeless and sleeping rough, so they have looked after me.
"A couple of months ago, I was found sleeping in a church yard. I was there for about three or four days in different places. I used to have drink in the daytime and then crash out.
"I was only drinking three bottles a of wine a day. I was drinking slowly because I didn't have a lot of money on me.
"I'm in detox now. [The PFA] have helped immensely."
Sansom, who began his football career at Crystal Palace, making his professional debut at 16, added: "I've had support from Arsenal fans, Crystal Palace fans. I did a job at Crystal Palace on Sunday when they got beat by Tottenham.
"It was marvellous because I didn't see any light at the end of the tunnel and all of a sudden there was a little glimpse.
"When I went to Palace, it gave me a massive buzz. Everyone was drinking, but I wasn't interested. I was just talking to people and I really enjoyed it. I think I'm going to do it for the rest of the season. It's just something great. I'm hopefully going to see Arsenal about doing my [stadium] tours again.
"I've got no money, I rely on my pension and the jobs that come in. I've not got a contract for jobs and I'm looking forward to going back and working on a regular basis.
"I've been offered a coaching role, it's magnificent and it's something I've wanted to do for a long time. I want to try to teach kids around about 12 years old because at that age they start to click and listen. This guy has offered me an opportunity and I've got to meet him at some stage."
After leaving Palace, Sansom moved across London to Arsenal, where he spent eight years and made 314 appearances.
But he didn't start drinking until he was 21 years old. Once his alcoholism took hold, he also entered into gambling.
"When I started drinking, I was having a great time, but I have regrets," he admitted.
"I should have played more than 100 times for my country and most probably played for another three years, had I not drunk as much. I can't harp on about the past when I've come to a stage where I have a lot of support. I've got to do it this time. I'm in a good place now.
"I lost my home [through] gambling and drinking. I couldn't pay the mortgage. I was spending the money and it was actually under my wife's name and it just got taken away.
"I thought I lost everything, so I felt I might as well have a drink. That's what makes me forget about it all. It was a coward's way out, and I did it.
"I definitely lost my son. I got divorced. I've lost money, I've lost my house, I don't drive a car, I don't have a house.
"My son won't speak to me because obviously I left his mum and he will never talk to me again. It hurts me a lot."
Asked if he was sure he wouldn't go back to drinking, Sansom replied: "At this moment, I'm going to say definitely yes, but you can't say never, because you just don't know what may happen in your lifetime."