Paul Caddis: Swindon defender frustrated by unresolved future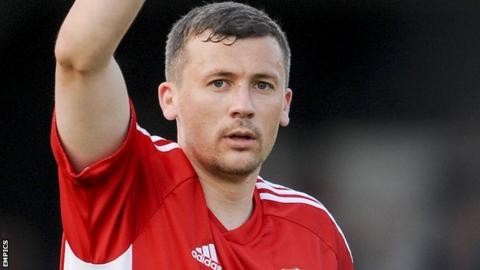 Swindon defender Paul Caddis has said he is frustrated with the club's board because his future is not yet resolved.
The 25-year-old right-back was loaned to Birmingham City last season and has not featured in the squad this term.
Caddis believes that, as one of Town's highest earners, the club have frozen him out with the intention to sell, but have not acted on interest from both Blues and Millwall.
He told BBC West Sport: "I don't understand where I'm at."
Caddis, who is under contract until next summer, explained: "I spoke to Jed [McCrory, chairman] when I first came back from Birmingham and he said my wage could be a problem. I understand that.
"They're not playing me now because they want to sell me. Jed has said there's not been interest because of my salary but it's just not true.
"Millwall and Birmingham have agreed to take over my contract [on loan] but for some reason the club have blocked it.
"One minute they're blocking me, the next they're saying I won't play. That's a choice that's been taken out of the manager's [Mark Cooper] hands."
McCrory has responded to Caddis' claim, saying the club had only received one formal offer for him - believed to be from Blackpool, with whom Caddis admits he failed to agree personal terms.
Speaking to BBC Wiltshire, he said: "I'm disappointed that Paul came to the media rather than talk to me. If he is frustrated he can talk to me at any time. I didn't realise that we had a problem.
"Paul sat with me, about six weeks ago, and he told me he wanted to play in the Championship and I did tell him he was one of the club's highest earners, which he is aware of.
"We want players who want to play for this club and take the club forward. At the time of this meeting Paul made it quite clear that he saw his career at a higher level."
Former Celtic player Caddis captained Swindon to the League Two title in 2011-12 season but was sent out to Birmingham last summer following a dispute with former Town boss Paolo Di Canio, who has since taken over at Premier League Sunderland.
Scotsman Caddis proved a success at St Andrew's, making 28 appearances, but the Championship club failed in their attempt to bring back Caddis in April.
Kevin MacDonald was manager when Caddis returned to the County Ground for pre-season this summer, and described the player's attitude as "professional" and said he "gave 100%" during training.
But after an unsettled year, with his last appearance for Swindon coming in May 2012, the player admits: "I go home and I think 'is it me? Have I done something?'.
"People will be thinking I'm this big trouble maker, but I've never had a bad attitude or caused problems.
"There's been reports I've asked to leave the club, which is not true. I want to help the club and I'm not being allowed to do that."
During Caddis' time away from the County Ground last year, Swindon were taken over by McCrory's consortium and the new chairman was forced to make budget cuts, after significant spending from Di Canio's era.
Ten first-team members have since left the club, and Caddis has now spent the first five games of this season watching from the stands.
"It's completely out of my hands now," he added. "I was given a contract by the previous board, that they thought I deserved.
"I'm hoping there's a resolution, although it looks unlikely. The fans and the club are the most important thing and I just hope they understand what position I'm in.
"If a deal doesn't get done it looks as though I'll be sitting in the stand for a year. It would be really disappointing but I'm contracted to the club so I've got to be there every day."