Manager Michael Laudrup not worried by Swansea City defeats
Last updated on .From the section Football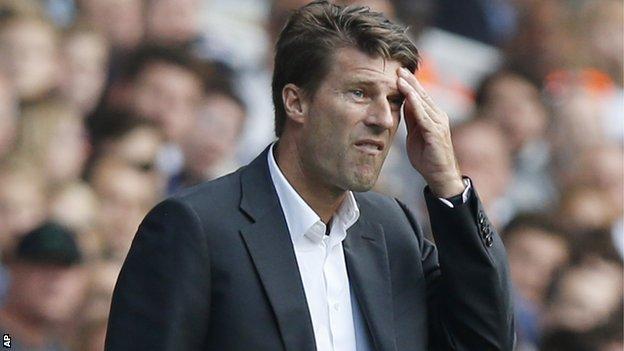 Manager Michael Laudrup says he is not worried about Swansea's failure to collect a point from their opening two games of the Premier League season.
"I am not worried, but I don't like to have a 0-1 [defeat]," said Laudrup, whose side are bottom of the table.
"We will see when we've played seven or eight games how many points we have."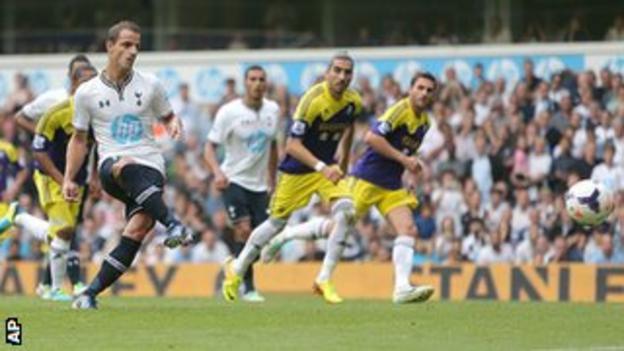 After two games of last season's Premier League campaign, Swansea were second following a 5-0 win at QPR and then a 3-0 victory at home against West Ham, but Laudrup felt any comparisons were unfair.
He said: "To compare is part of football, but with the greatest respect to QPR and West Ham at home, we have started with the champions at home and Tottenham away.
"We had a fantastic start last year with six points in the first two games, but after seven games we had eight points.
"We know this is a long competition and it is not the games against Man United and Tottenham that will define our season, but West Brom away next Sunday is an important match for us."
While Swansea have failed to record a point in the Premier League, they remain unbeaten in an impressive start to their Europa League campaign.
They defeated Swedish side Malmo 4-0 on aggregate in the third qualifying round and the Swans hold a 5-1 lead against Petrolul Ploiesti of Romania after the first leg of their play-off tie, with the second leg taking place on Thursday, 29 August.
The Welsh side's second successive Premier League defeat came with Tottenham's Roberto Soldado scoring his fourth goal in three games with a 58th minute penalty.
Defender Chico Flores did have a chance for Swansea when his volley was tipped over the bar, but otherwise the visitors did not create any real chances.
Laudrup was unhappy at the penalty being awarded following midfielder Jonjo Shelvey's foul on Andros Townsend.
"In the second half Tottenham really did not create anything, apart from the penalty," said Laudrup
"I've watched it a couple of times and thought it wasn't a penalty.
"If they had scored a couple of chances in the first half, it might have been a bit different.
"But they got a very light penalty and that was the only thing they created in the second half."