Six to oversee Togo for last time against DR Congo
By Blame Ekoue
BBC Sport, Lome
Last updated on .From the section Football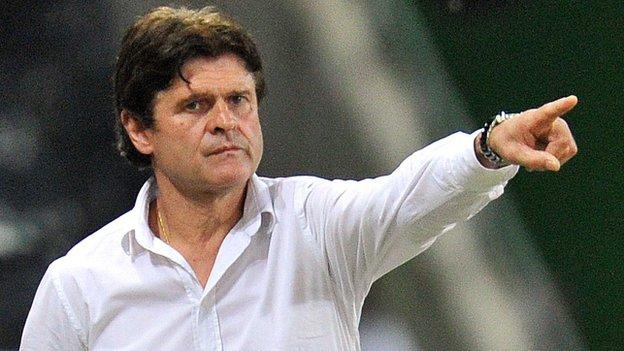 Didier Six has agreed to oversee Togo in their World Cup qualifier against DR Congo in September before he ends his reign as coach.
But Six and the TFF have ended months of deadlock and reached an agreement for the 58-year-old to take charge of the team for their final Group I qualifier.
Togo are bottom of the table and DR Congo sit third, so both teams have already failed to qualify for the play-offs.
Therefore the match will effectively be little more than a chance for Six to say farewell after almost two years in his role.
TFF spokesman Herve Agbodan told BBC Sport: "Coach Didier Six has gone back to Europe but he has already submitted a list of players who will play against DR Congo for the World Cup qualifier and has accepted to stay for the last match.
"After this match, Togo will not play again under Six because his contract expires in January and we are already out of the running to reach the 2014 World Cup in Brazil."
It remains unclear whether Six and the TFF have reached an agreement over the Frenchman's claim he is owed money in expenses.
Togo will name their squad next week and BBC Sport understands that Six has left out striker Emmanuel Adebayor, goalkeeper Agassa Kossi and defensive midfielder Alexis Romao.