Arsenal: Arsene Wenger only interested in 'special' players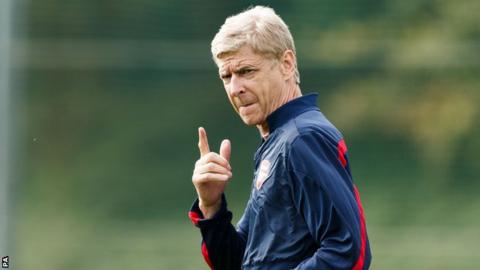 Manager Arsene Wenger insists he will only bring "special" players to Arsenal, with a week remaining until the summer transfer window closes.
Striker Yaya Sanogo, a free transfer, is the Gunners' only signing so far.
Arsenal are keen to sign Real Madrid's Karim Benzema and Angel Di Maria, and Newcastle's Yohan Cabaye.
Referencing his current squad following Saturday's 3-1 win at Fulham, he said: "They are special and if I want to add something it has to be special."
In recent months, the north London club have failed with a move for striker Luis Suarez, seen their £10m offer for midfielder Cabaye rejected and and have been linked with moves for strikers Wayne Rooney of Manchester United and Gonzalo Higuain, who eventually moved from Real Madrid to Napoli.
Mathieu Flamini is believed to be in talks about returning to the club on a free transfer - the midfielder, who has been training at the club this summer, previously left the Gunners to join AC Milan in 2008.
They are also understood to be interested in bringing in a goalkeeper and a defender before the transfer window shuts at 23:00 BST on Monday, 2 September.
Arsenal have been criticised by Newcastle manager Alan Pardew about their pursuit of Cabaye, but Wenger refused to comment on speculation about his supposed targets.
"I will not give you any names, because it would be unfair for the players who play at another club," he said. "It could, as well, create some wrong hopes.
"You could see that many of the disputes you have all over the country is because the coaches or the managers speak about the players.
"In our job, just be discreet and try to make things happen. That's what we try to do."
The Frenchman was repeatedly urged to spend by the club's fans during the 3-1 home loss to Aston Villa, on the opening weekend of the Premier League season.