Centre-back Ben Turner 'hurt' by Cardiff City fan poll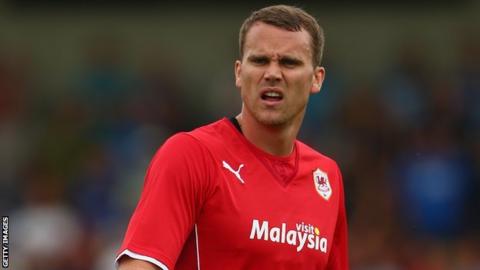 Cardiff City defender Ben Turner admits he was "hurt" by a poll conducted by a local newspaper in which fans voted for him to be replaced by Mark Hudson.
Turner partnered Stephen Caulker at the heart of Cardiff's defence on Sunday as they claimed a famous 3-2 win over Manchester City in the Premier League.
However, Turner says he understands the calls for club captain Hudson to play.
"I've read the media this week and I've seen what was said by the fans," said the 25-year-old centre-back.
"In many ways I'm with the fans - I think it's a real shame at the minute that Huds isn't playing because he's a fantastic player and he's a fantastic captain.
"But at the same time it did put pressure on me and hopefully my performance has justified my place in the team.
"Obviously it hurts but I'm 25 and I've been here long enough now, it did get me down when I was 18-19 when I had it at Coventry.
"You are going to be questioned why you are in the team at some point in your career but you've got to be a big character about it.
"All I can do is give my best, can't I? And when it's Huds's turn to be in the team I'll be 100% behind him, like he has been behind me."
Saturday's win over 2011-12 champions Manchester City at Cardiff City Stadium - the Bluebirds' first win in the top flight since they were last there in 1962 - went some way to soothe Turner.
The defender, who signed from Coventry City in August 2011 and was awarded a new two-year deal last December, says the Cardiff players must reproduce that level of effort in every game from now on.
And he praised the 27,068-strong Cardiff crowd, who roared their team on against Manchester City.
"It's not always the better side that wins in terms of if you work hard and you stick together, then every now and again you get a result like that," he said.
"[The atmosphere] was fantastic - I've never known it like that here to be honest.
"But I think we've got to be realistic - we're not going to beat every big team at this stadium, it doesn't matter how well we play or how much noise there is in the stadium.
"Sometimes we'll come up short but we'll always be putting 100% in and if they can make that noise I think we'll hold our own."
Cardiff face Accrington Stanley on Wednesday night in the second leg of the Capital One Cup, then return to league action against Everton at home on 31 August.