Bayern Munich's Thiago Alcantara out for two months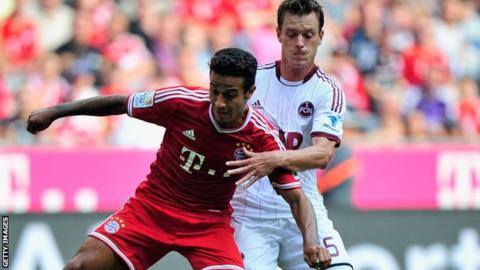 Bayern Munich midfielder Thiago Alcantara has been ruled out for two months after undergoing surgery on Monday.
The 22-year-old tore ligaments in his right ankle during Bayern's 2-0 win over Nuremberg at the weekend.
"We're going to miss him," said Bayern coach Pep Guardiola. "He's a very special player and important to the team."
Alcantara joined Bayern from Barcelona in the summer.
He was playing in only his second game for the German club when he suffered the injury, after making his debut in a 4-2 defeat to Borussia Dortmund in July's Super Cup.
The Spaniard will spend the next six weeks on crutches, meaning he is unlikely to return until November at the earliest.
Alcantara will miss the Uefa Super Cup against Chelsea on Friday.
He is also ruled out of Bayern's next four Bundesliga fixtures and could miss out on three Champions League encounters.