Gareth Bale: David Moyes coy on Manchester United interest
Last updated on .From the section Man Utd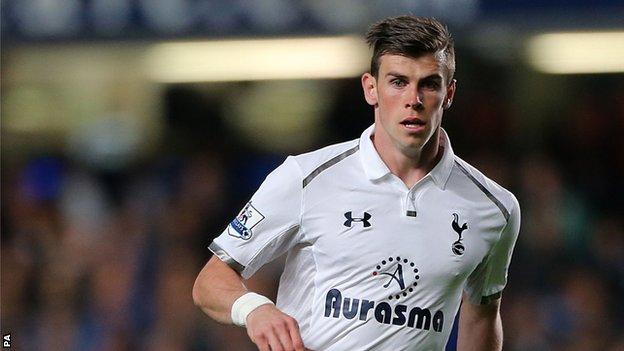 Manchester United boss David Moyes refused to deny his side's interest in Gareth Bale after
but Spurs have not accepted the bid yet.
When asked whether they were in for Bale, Moyes said: "I said at the start when I got the job that Manchester United will always be interested in the best players and we're always looking to try to improve the team."
Speaking after the 0-0 draw with Chelsea, he added: "The owners have given me every opportunity to bring in who I want and we'll continue to try and find those players.
"It's been tough in this window but we're always looking at the best players. I can't give you any more."
Real Madrid are still believed to be favourites to sign the Wales international.
Bale, who joined Spurs in a £10m deal from Southampton in 2007, was named player of the year by both the Professional Footballers' Association and Football Writers last season after scoring 26 goals for the White Hart Lane side.
Ex-United assistant Mike Phelan, who left the club this summer, told BBC Radio 5 live that he still expects Bale to join the Spanish giants.
"I'd be extremely surprised if Bale doesn't join Real Madrid in the next couple of days.
"Man United would be in position to do a deal of that magnitude if they wished. It would be hugely disappointing for Bale if it [the Real move] didn't happen.
"Good players are always targets and he's been a consistently good player. It's no surprise that he's attracted massive attention."