Johnstone's Paint Trophy brings Wembley dreams alive
By Ian Westbrook & Matt Newsum
BBC Sport
Last updated on .From the section Football
Thirty years ago the prospect of teams in the Football League's bottom two divisions playing in a Wembley final was a far distant dream for supporters of those clubs.
However, the introduction of a new cup competition in 1983 changed all that.
The Associate Members Cup was created to give lower division clubs a realistic route to a day under the Twin Towers and the chance to win a trophy.
Although the first season, a trial run, finished at Hull's old Boothferry Park, all finals since then have been played at Wembley, except during the stadium's rebuilding when they took place at Cardiff's Millennium Stadium.
The first round of this season's competition, now called the Johnstone's Paint Trophy, takes place next week with this season's final on 30 March.
BBC Sport spoke to two people who have enjoyed a big involvement in the tournament's history.
FOOTBALL LEAGUE VIEWPOINT
Andy Williamson, now the Football League's chief operating officer, worked for the League when the competition started.
He told BBC Sport: "It was an initiative by the sub-committee that looked after the interests of what was then the Third and Fourth Divisions, with Ian Jones, who was then chairman of Doncaster, the chief proponent.
"As well as the opportunity of playing in a Wembley cup final, the competition also aimed to give clubs the chance of having a successful season.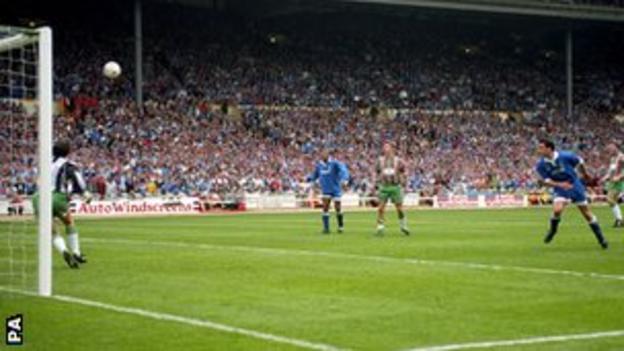 "The only opportunities around at that time were realistically to get promoted or have a cup run, so actually bringing some silverware to lower division clubs was something they felt they needed."
Over the years the competition has developed and innovated - being used as a testing ground for various ideas.
The golden goal rule (the first goal scored in extra-time wins the match) was introduced into the competition during the 1990s and went on to be used in major competitions including the World Cup and European Championship finals.
One of the current regulations aims to ensure that teams mainly field their regular line-up, rather than choosing a second-string side for ties. Clubs can be fined up to £5,000 for breaking the rule and Williamson explains: "This has established a minimum quality standard in the competition.
"Clubs have to start six of the 11 players who played in the match immediately before or after the Trophy game or the six players with the most appearances for the club to date that season.
"As with all cup competitions managers sometimes choose to have other priorities but we have not had many problems with this rule - just an odd fine each year and that's about it."
The League also want to attract more of a family audience to ties and have encouraged clubs to kick off games at 7pm and reduce admission prices, while they have scrapped extra-time in every round before the final so that games finish earlier.
However, the League has not been able to use every idea, as Williamson says: "We put the competition forward as a potential testing ground for an alternative to the penalty shoot-out - reducing the number of players for each side throughout extra-time in an attempt to get a decisive golden goal.
"We offered the idea up to Fifa but were not allowed to use it."
The competition also included Conference clubs for six seasons, bringing the number of competing teams up to 64, but their participation was ended in 2006.
No individual match stands out for Williamson, who adds: "Every Wembley final is a highlight for me, seeing two sets of supporters there and what the competition has brought to the football landscape.
"There is no European place at stake so it is all about who performs on the day. For the players, appearing in a Wembley cup final is a great thing and something they will treasure for the rest of their lives."
CUMBRIAN LOVE AFFAIR
Carlisle have enjoyed a love affair with the competition which has taken them to the old Wembley, Cardiff's Millennium Stadium and the new national stadium since their first appearance in 1995.
United's run of six final appearances, two of which were victorious, began with a meeting against Birmingham City.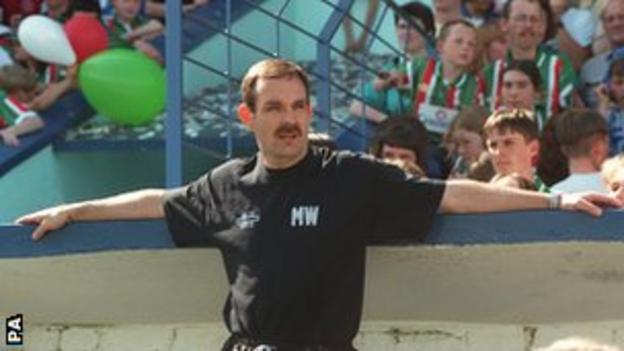 Although Paul Tait's goal settled the match for Birmingham in golden goal extra-time, the Cumbrians played their part in a thriller in front of 76,663 fans - 1,068 more than watched the League Cup final between Liverpool and Bolton.
"It was a brilliant day, I do think that final set a marker," the then-manager Mick Wadsworth told BBC Sport.
"For teams in League One and League Two, this is their FA Cup, their League Cup, and it's a chance to play at Wembley.
"We were tremendously well supported. We took 35,000 down there in what was an excellent season as we won our league [the now League Two championship].
"Birmingham were winners of their league [now known as League One] as well so it was a fitting final really."
The knock-on effect seemingly galvanised the club.
Two years later, after defeat by eventual winners Rotherham in the 1996 northern area final, Carlisle returned to Wembley under Wadsworth's successor Mervyn Day to lift their first Football League Trophy after a penalty shoot-out against Colchester.
Brunton Park became a fertile breeding ground for young players such as Paul Murray, Rory Delap, Matt Jansen and Paul Boertien during the mid-to-late 1990s - all of whom were in and around the squad during the Wembley years.
"It [the Wembley experience in 1995] gave players like Paul, Rory and Matty - young lads on the fringes of the first team - and the other players a taste of being a top-level professional footballer," Wadsworth said.
"They suddenly had this bus journey down to Wembley, new suits, kit deals, media attention, and it wasn't just the young players either, we had some hardened professionals who it was a big deal for.
"Even someone like Derek Mountfield, who played in the FA Cup final, European Cup Winners Cup final, won the league with Everton, it was a big day for him as well because it was where he was playing at that time."