Hearts fans urged to 'pledge support now or risk losing club'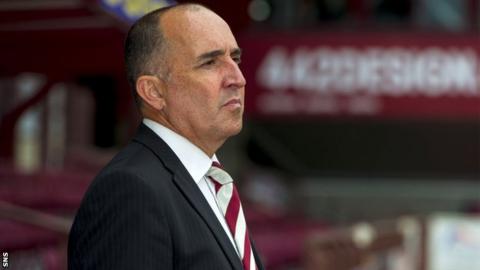 Failure to turn Hearts over to fan ownership could spell the end for the club, its managing director has warned in an open letter to supporters.
David Southern has confirmed his own financial support for the currently in administration.
"We are now being asked to step forward when our club needs us most," he said of the bid by the community group.
"If we hesitate, it may not just be the moment that is gone."
Having secured preferred bidder status, the FOH had "broken through the 7,000-member mark" in pledges and had the support of every key independent supporter organisation, Southern stressed.
Hearts entered administration in June and BDO, which has taken over the running of the club, revealed last month that club debts amount to £28.4m.
"As managing director of Heart of Midlothian Football Club, I believe that we as supporters now have a golden opportunity to secure the future of the club for many generations to come," said Southern.
"The departure of the former owner and board presents an opportunity to establish certainty and stabilise the club for future generations.
"There is a 'cost'. But, in my own view, it is negligible when compared to the cost of not securing the club now.
"We are on the verge of creating another defining moment in the history of the club."
Southern suggested it was fitting that the supporters could take control on the eve of the 100th anniversary of "the greatest team ever to wear maroon" - the 1914 side that finished second in the league to Celtic - having lost much of their squad to the British forces for World War One.
"Hearts is a club of the people; it always has been," he said.
"If anyone ever needed proof of that, it has been demonstrated time and time again, particularly in recent months, and not simply in financial terms.
"The dignity shown throughout such trying times is as valuable as any sum of money that has been raised.
"For this reason, it is only right that you are now in pole position to take ownership of the club."