Northampton Town: Aidy Boothroyd considers new recruits
Last updated on .From the section Football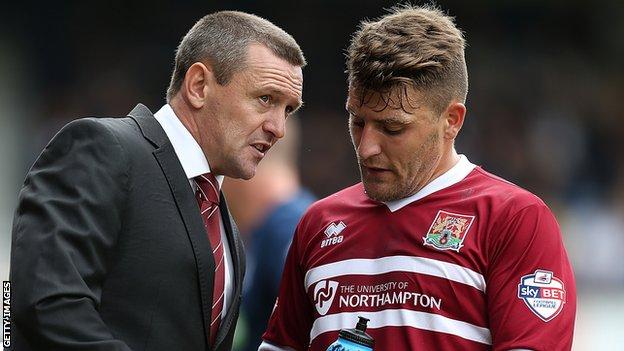 Northampton Town boss Aidy Boothroyd says he could add defensive strength to the squad in the transfer window.
Boothroyd told BBC Radio Northampton: "We may need some new blood to toughen us up a bit.
"Every team needs that balance of artists and soldiers and we haven't got that balance right yet."
He continued: "You can't have a load of fancy dans because at some point or other they'll be found wanting in the physical side. And you can only get so far with a team of brutes.
"I've highlighted a couple of players and it's just a matter of whether we can do something.
"At the same time, I'm making sure my phone is kept on for anyone to take our players that I think need to move on with their careers."
Defender David Artell, 32, is on the club's books but is said to want a move away from Sixfields.
Northampton have started the League Two season with three defeats from four games but Boothroyd is encouraged that they are heading in the right direction and that the supporters are behind him.
"In the first few games we've beaten ourselves, which is irritating from a managerial point of view," he said.
"We're creating chances but we're not defending with the intensity I want us to consistently enough and I would prefer us to be more threatening at set-plays.
"Supporters stick with you - if they rate you - and they they trust you, let you do your job and try to understand what you're trying to do.
"I don't think anyone expects us to pull up any trees early on. Maybe we're having our difficult period early on - it's very early days.
"Our [supporters] are sensible people. I don't think people are panicking or worried. As they see the team developing, and we get players back, and if we can add to what we've got, we'll get that balance between entertaining and winning. I honestly don't think we're that far away."
Meanwhile, Boothroyd is hoping to extend the loan spell of Leicester's Jacob Blyth, who has scored two goals for the Cobblers so far.
"I'm certainly going to have a chat with Leicester about it, and Jacob," he said. "I think he's been absolutely terrific.
"He's a willing worker, he's honest and he's got some talent. If we can't keep him, we'll look to within with Ivan Toney and JJ Hooper."