Truro City boss Steve Massey blames inexperience for 'dip'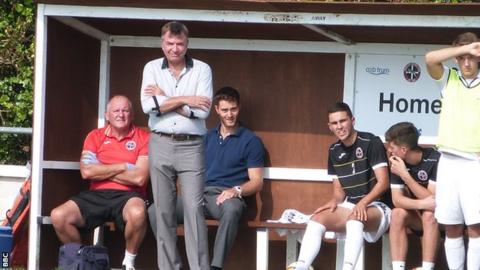 Truro City boss Steve Massey says his youthful team have to learn to be more streetwise after their 2-0 defeat by Devon rivals Bideford.
The White Tigers have experienced mixed results so far this season.
"We've been saying that with the inexperience of the guys there might be a dip or two and it happened," Massey told BBC Radio Cornwall.
"We got sucked into all the spoiling tactics they used. We've all done it - it's something that experience brings."
Massey's side won 1-0 against Hinckley on Saturday, but were unable to replicate their form just two days later against a notably direct Bideford outfit, with Dan Evans sent off after the break.
"Our guys were intimidated in a lot of areas. We didn't create anything and we gave away two very soft goals," he said.
"Everybody plays to their strengths. I have a huge amount of respect for Bideford and their manager Sean Joyce.
"I consider him a personal friend of mine and he's built a side I would not necessarily have wanted to play like but who's to say that's wrong? They play to their strengths and play it very well.
"I spoke to the Biggleswade Town manager and he said that they were probably the most direct team he's ever come across.
"They pick up the pieces and it worked for them. What was disappointing is that when we had the ball we had opportunities to play but we couldn't keep the ball.
"You could hear the frustration of the fans. Bideford came here to spoil it and snuff us out and they did.
"They deserved the win, they battled really well but as far as a spectacle for supporters it was really disappointing."