Ipswich Town eager to raise attendances - Ian Milne
Last updated on .From the section Football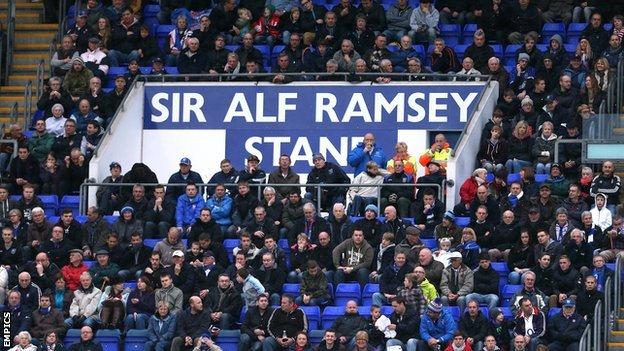 Ipswich Town's joint-managing director Ian Milne has said the club are focused on increasing attendances by attracting younger fans.
Numbers at Portman Road have decreased every season from around 24,000 to 17,500 since 2004-05.
"It depends on what happens on the pitch, of course," Milne, appointed in February, told BBC Look East.
"But it's so important to make sure once we get the fans through the door they enjoy the experience."
Town's struggle to maintain high attendances is mainly down to an 11-year exile from the Premier League following their relegation in 2002.
And recent seasons have failed to convince supporters that a return to the top flight is imminent, with the Suffolk side recording a highest finish of eighth since Marcus Evans bought the club in the 2007-08 campaign.
It is hoped that an increase in crowds at Portman Road could help alleviate the club's debt and annual losses.
Town recorded a loss of £16m in the financial year ending June 2012 and debt grew to £79.62m, of which £72.62m is owed to Evans.
"It's something we have to review every so often," said Milne, who shares his role with Jonathan Symonds.
"Yes, there are certain losses we can make. But if we're generating income then the fans are enjoying it.
"A lot of it is to do with results. We're very confident we're moving forward and that will bring the fans back in."
Boss Mick McCarthy has also emphasised the importance of making sure local football supporters follow Ipswich, rather than a bigger, more fashionable club.
"It is a family club and that's become more evident to me since joining in November," he said.
"How many clubs are in the region? Ourselves and Colchester. It's important we've got Ipswich shirts in Ipswich."