Cardiff City buoyed by Manchester City victory, says Jordon Mutch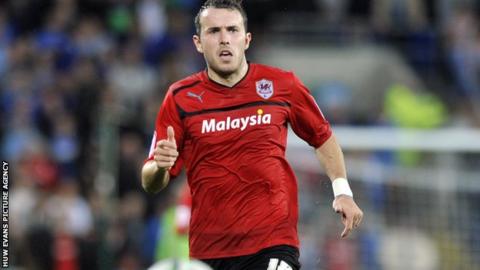 Midfielder Jordon Mutch says Cardiff City's win over Manchester City has given his a real confidence boost for the rest of the Premier League.
Cardiff beat the former champions 3-2 at the Cardiff City Stadium on Sunday.
Mutch, who did not feature in the game, claims the victory has given the Welsh side a real lift.
"We needed that result and it sets us up for the rest of the season now," said Mutch.
"We can got out there and beat anyone, especially at home.
"Everyone was happy, but now we just have to kick on to the next game and get as many points as we can and move up the table."
Mutch, 21, signed for Cardiff on a three-year deal from Birmingham City in June 2012 and played in all of the last eight games in the Championship title winning season.
He is still waiting to make his Premier League bow with Cardiff, but is expected to play in the Capital One Cup second round game against Accrington on Wednesday.
The former Birmingham City product, who has has spells on loan at Hereford United, Doncaster Rovers and Watford, admits he cannot wait to play in the Premier League.
"It's a brilliant stage to be playing on," said Mutch.
"It sent out a message for the rest of the league and everyone watching worldwide knows Cardiff City now.
"Hopefully, we can kick on for the rest season and perform as well as we did last season.
Mutch, an England Under-21 international admits trying to get a place in the side has been tough.
"We have just beaten Man City 3-2 and I don't think it could be more difficult," said Mutch.
"We have some great players, its a long season and the squad is going to be rotated. Everyone is going to get a chance eventually.
"It's the way football is and when that chances comes, you just have to take it."