Guernsey FC turn sights to FA Cup 'cracker'
Last updated on .From the section FA Cup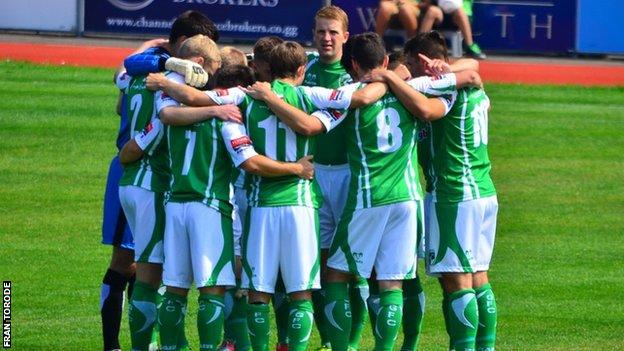 Guernsey boss Tony Vance says the 1-1 draw with Crawley Down Gatwick has set the stage for an FA Cup "cracker".
The two clubs will meet for the second time in eight days on Saturday in the preliminary round of the tournament.
"You can see they're a good team - but we've shown we can match these people and it should make the match interesting," Vance told BBC Guernsey.
"It should be a cracking tie. We're very respectful of their qualities and I'm sure they are of ours."
after the Football Association imposed certain conditions on them relating to the venue for replays, the payment of travel expenses for visiting teams and the sharing of gate receipts.
The club to help with the extra costs of entering the competition.
But with the match - to be played at Crawley Down Gatwick's Haven Sportsfield - just days away, Vance is focused on the abilities of his team and the opposition.
"They stepped up after half-time and showed they've got some considerable strength," he said.
"They've got players who have played at two leagues above this level in semi-professional football and a couple of former pros.
"I know the ability of our players - you can see that these players can go up a notch.
"I've learnt an awful lot. We've adapted our style a bit, especially out of possession and made ourselves a bit more difficult to beat and respectful of the opposition.
"But we mustn't take way from the fact that we're very good going forward with the ball. We've been thrown into the lions' den a bit and have had to learn fast."
Crawley Down Patrick boss Simon Wormull said his side, who are top of the table, were hoping to improve on the performance they produced against Guernsey in the league.
"I was impressed with Guernsey - the way they set themselves up meant they came out and put us under a lot of pressure," he said.
"They deservedly took a 1-0 lead but we weren't overly impressed with our performance, to be honest.
"We didn't really get going but I think you saw a bit more of what were about in the second half; once we got our goal, we dominated."
The winner of the tie on 31 August will face Ramsgate or Hastings United, in the qualifying round.