Price of Football: Sheffield United the league's cheapest to watch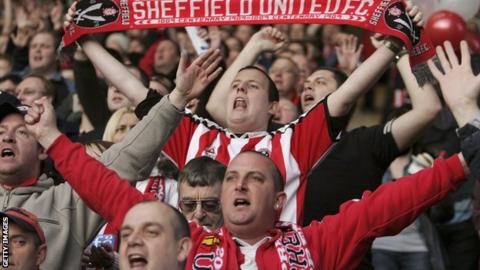 League One club Sheffield United offer the cheapest match-day experience in the Football League for the second successive season, according to BBC Sport Price of Football.
Their cheapest adult match-day ticket is £10 with the cost of a programme, a cup of tea and a pie adding £7.70 to a visit to Bramall Lane.
Only three other Football League clubs offer a-match day experience under £20.
And just Southport and Tamworth are cheaper in the Conference Premier.
Championship clubs Huddersfield Town (£17.80) and Derby County (£18.00) and League Two side Accrington Stanley (£19.50) join the Blades in offering their cheapest day out at under £20.
Sheffield United's family-day category £10 price is only available for a few games in the season but their £18 category B ticket is only bettered by four other League One clubs' cheapest offering.
"We want to offer affordable football to Sheffield United fans and we are delighted we have come top for the second season running," said club spokesman Kevin Cookson.
"It is important in these testing times as we all know how expensive football can be."
The club's most expensive match-day ticket, though, is £26, a price lower than only four other League One clubs, with Bradford City and Colchester United the highest at £30 while Gillingham and Peterborough United sell £28 tickets.
Coventry City offer the cheapest season ticket in League One at £184, the third-lowest price in the Football League behind League Two teams Hartlepool United (£150) and Fleetwood Town (£179.50).
The Sky Blues's match-day ticket prices range from £13-£18 after they were cut from last season following the club's move out of Coventry to Northampton's Sixfields Stadium, with large numbers of fans boycotting home games.
The BBC Sport Price of Football study looked at 166 clubs in 10 divisions across British football, including the Conference Premier and Women's Super League.
It found Wolverhampton Wanderers and Bristol City, relegated from the Championship last season, have lowered their prices while Peterborough, who suffered the same fate, have frozen their cheapest season tickets at £275.
Bristol City commercial director Kevin Smith said: "Following relegation we felt strongly that, in the wake of feedback from supporter groups, the right thing to do was to reduce prices for 2013-14.
"The response from the fanbase was very positive and sales were terrific, leading to a positive feeling around the club going into the season. Attendances for three of our early home games this season would be in the top five Championship attendances."
Newly promoted Bradford City's £199 season-ticket price is the second-lowest in the league, while they have also frozen their cheapest match-day ticket at £20.
Fellow League One newcomers Gillingham have cut their cheapest season ticket from £290 to £275 despite promotion, while their cheapest match-day ticket price has also been reduced.
Rotherham United's cheapest season ticket, at £355, is the most expensive in the league following their promotion, rising from £340, while Port Vale, also promoted, have the second-highest at £325, a £53 rise on last season.