Champions League: Arsenal's draw underlines need to spend

By Phil McNulty
Chief football writer
Last updated on .From the section Football1284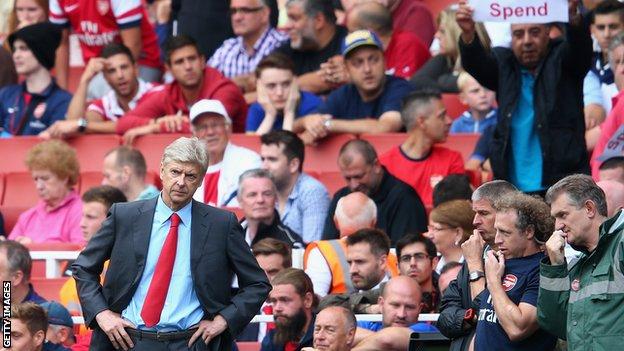 If Arsenal's deadline-beating transfer activity is once again going to be unflatteringly compared to a trolley dash, there is every chance the wheels picked up speed after the Champions League group-stage draw in Monaco.
While Jose Mourinho may have silently celebrated how the overblown ceremony treated Chelsea, and Manchester United and Manchester City were handed groups that are hazardous but manageable, Arsenal were given the toughest test of all the Premier League's elite.
As Arsenal's supporters await the promised full-scale escalation of their work in the markets - the free-transfer return of Mathieu Flamini will hardly set pulses racing - concerns will only have increased by their standing alongside last season's runners-up Borussia Dortmund, Marseille and Rafael Benitez's Napoli in Group F.
Mourinho looks to have been handed firm foundations as he starts the quest to claim the trophy that eluded him at Chelsea - and they won without him in 2012. They were drawn to play Basel and Steaua Bucharest, who they beat on the way to winning last season's Europa League, and Schalke.
The full extent of new Manchester United manager David Moyes's Champions League experience is two legs of a losing qualifier with Everton against Villarreal in 2005. United and Moyes have not been handed an easy group in Shakhtar Donetsk, Bayer Leverkusen and Real Sociedad.
Manchester City's name has been associated with the Champions League's short straw in their abysmal adventures in the competition so far. They may feel slightly better after Thursday's draw, although once more qualification will not be easy. They face holders Bayern Munich, CSKA Moscow and the Czechs Viktoria Plzen.
It is, however, Arsenal's draw that raised most eyebrows and there are real dangers as they try to get through the first group stage for the 14th year in succession.
Dortmund, under the charismatic guidance of Jurgen Klopp, are now one of European football's superpowers and determined to take the next step after losing to Bayern in last season's final, while Benitez - an old adversary of Arsene Wenger - will again confront Arsenal.
Benitez made much of his reputation with his mastery of European competition, winning the Champions League with Liverpool in 2005 and reaching the final two years later - as well as beating Arsenal in their 2008 quarter-final. And of course he left Chelsea the Europa League to remember him by following his turbulent, but ultimately successful, spell in charge last season.
He also has at his disposal striker Gonzalo Higuain, who for so long seemed destined to arrive at the Emirates before Arsenal turned their attentions to a doomed pursuit of Liverpool's Luis Suarez. Gunners fans will hope Higuain does not make Arsenal pay for failing to conclude the deal.
Wenger has been searching in vain all summer for the players who will end his barren spell. New faces were needed simply to improve Premier League performances so urgency must now surely increase given the names they face in the Champions League.
At Manchester United, Moyes is effectively learning on the job in the Champions League and they will come up against a familiar figure in Bayer Leverkusen's coach, the former Liverpool defender Sami Hyypia.
His side have won their opening three Bundesliga games this season and have the highly rated Lars Bender, who was reportedly the target of an £18m bid from Arsenal.
The superb Donbass Arena will provide a magnificent setting when United play Shakhtar and while the Ukrainians may have lost Willian and Fernandinho in recent times, they have spent big to plug the gaps.
Real Sociedad may be regarded as dark horses but they were highly impressive in disposing of Lyon 4-0 on aggregate over two legs in the qualifying stage.
And so to Manchester City.
They may have had tough luck with the draws since they first made acquaintance with the Champions League, but a desperate winless exit last season against Real Madrid, Borussia Dortmund and Ajax means former Malaga coach Manuel Pellegrini must show the sort of pedigree in the competition that was part of the argument that persuaded the club to appoint him.
It is no easy task this season with Pep Guardiola in charge of the holders Bayern, but City may feel there is something for them as they prepare to try to make their way into the knockout phase at last.
CSKA Moscow did the double in Russia last season but the newly strengthened City will have confidence against them and Viktoria Plzen, who beat Maribor to reach the group stage.
Mourinho will exercise due caution at Chelsea but reality suggests they will surely have no problem qualifying from their group - which is more than can be said for Celtic.
But one look at last season's Champions League informs those preparing to dismiss Celtic, even in a group containing Barcelona, beaten last season on a night that will live forever in Celtic Park's memory, AC Milan and Ajax.
Celtic Park can do strange things on European nights, to Celtic and their opponents. The temptation is to write them off but, as many of us who made that mistake in last season's Champions League found out, it is to be resisted.
Chelsea, Manchester United and Manchester City should all get through - but Arsenal now have just days to beef up their squad for tough nights ahead after getting on the wrong end of the Champions League draw.