Arsenal manager Arsene Wenger says he will not panic buy
Last updated on .From the section Football
Arsenal manager Arsene Wenger has said he will not be forced into making any panic buys ahead of the transfer window closing on Monday.
The Gunners also currently have a number of injuries to key men.
"We will not panic buy, that is for sure. It is not my strength to panic," the 63-year-old said.
In June, Arsenal chief executive Ivan Gazidis said the club was ready to "escalate" their spending.
When asked whether Arsenal could afford to spend a £20m transfer fee on a single player and offer salaries of £200,000 per week, he said: "Of course we could do that. We could do more than that."
In a frustrating few months, the Gunners have not been able to build on those words.
They have failed with two offers for Liverpool striker Luis Suarez, seen their £10m bid for Newcastle midfielder Yohan Cabaye rejected and been linked with moves for strikers Wayne Rooney of Manchester United and Gonzalo Higuain, who eventually switched from Real Madrid to Napoli.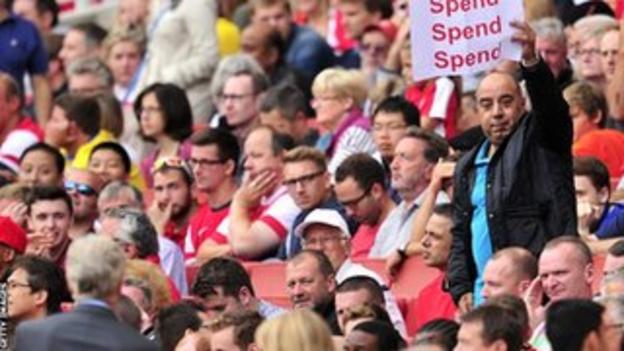 The Gunners are also understood to be interested in Real Madrid pair Angel Di Maria and Karim Benzema.
This lack of activity has seen the Arsenal fans repeatedly urge the club to spend some money.
Wenger's options have been further reduced by lengthy injuries to striker Lukas Podolski, defender Thomas Vermaelen, plus midfielders Alex Oxlade-Chamberlain and Mikel Arteta.
"The players we have here know how we want to play the game, and that is important," the Frenchman said. "If we can add players who can integrate that style of play, we will do it.
"We will not do anything stupid, for the sake of saying we have done something. We do what makes sense, that is simple."
One arrival has seen Flamini return to Emirates Stadium, five years after his contract expired and he moved to Italian giants AC Milan.
The France international had been training with Arsenal throughout the summer, but Wenger revealed he initially had no plans to bring him back on a permanent basis.
He said: "At the start, I did not want to sign him. The circumstances, and his attitude, convinced me to do it. I did not expect him to be in that mental state or physical shape."
One player believed to be on his way out this summer was striker Nicklas Bendtner.
The Denmark international, who has not played for his parent club in more than two years following loan spells at Sunderland and Juventus, looked set to leave only for potential moves to break down.
Wenger has now said if Bendtner can prove his fitness, he could get chances in the first team.
He said: "The chances for him to leave now are very, very small. If he does not leave, prepares well and is really fit, I will use him."