Keshi defends Saintfiet comments
By Oluwashina Okeleji
BBC Sport, Lagos
Last updated on .From the section Football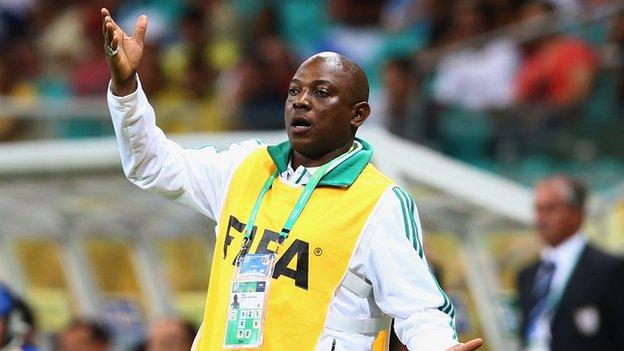 Nigeria coach Stephen Keshi "does not see anything bad" about his recent comments towards Malawi counterpart Tom Saintfiet.
Keshi's remarks, which FAM and Saintfiet have called "racist", came in response to their request to move September's World Cup qualifier against Nigeria from Calabar on security grounds.
"I only gave a strong reaction that it was wrong to insult the same country that Saintfiet was ready to work in. I really don't see anything bad about defending my country," Keshi told BBC Sport.
"I honestly have nothing against Saintfiet, I met him when he was in Nigeria for his interview for the job of Nigeria Technical Director here and we spoke at length on football subjects.
"Apparently, a harmless slang remark of 'white dude' was obviously misconstrued and the whole comments have clearly been taken out of context.
"I believe he would strongly defend Belgium in the same passionate and emotional manner should someone consider it unsafe to play football or visit that country.
"I have played football in Belgium and other countries around the world, where I have met different people. I still have Belgian friends and others from different backgrounds, so there's no way I would racially abuse him or anyone for that matter.
"I hope to shake hands, hug and speak with my good friend Saintfiet when we meet in Nigeria for the World Cup game.
"I think I've already said enough, clarified things and need to focus on the crucial game ahead."
Fifa has confirmed to BBC Sport that it has received an official complaint from FAM about Keshi's comments.
However, neither Keshi nor the Nigeria Football Federation (NFF) have been contacted by football's world governing body regarding the issue.
The Group F World Cup qualifier in Calabar on 7 September will decide who advances to the final round of play-offs in African qualifying for next year's tournament in Brazil.
African champions Nigeria need just a draw to progress while Malawi must win if they are to go through.