Rangers: Sandy Easdale buys Charles Green's shares
Last updated on .From the section Football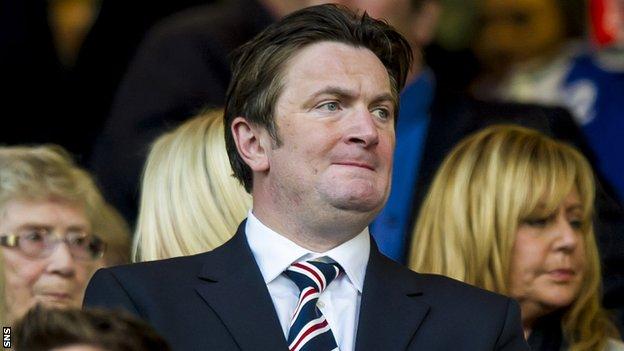 Businessman Sandy Easdale has bought Charles Green's stake in Rangers, ending the former chief executive's connection with the club.
Easdale, whose brother James is a non-executive director, said there had been "continued speculation and constant enquiries" about Green's shares.
"Between my family holdings and through other supporting investors I now have the largest shareholding," he said.
BBC Scotland believes the family holds around 10% of shares in circulation.
Greenock-based Easdale, who runs McGill's Bus Service with his brother, said Green had given him the "first option" to buy the shares.
Green led a consortium to buy Rangers last summer but quit as chief executive in April following allegations about his dealings with former owner Craig Whyte.
The Yorkshireman was re-employed as a consultant in early August after an investigation found no evidence of Whyte's claims he was involved in the Green-led acquisition.
However, he agreed to step down again just a few weeks later following repeated calls from fans' groups for him to go.
"Over the last few months numerous individuals and corporate bodies have expressed interest in obtaining my shares, although much of this was to solicit press coverage and attract attention," said Green in a statement.
"Sandy said he would buy them and he has. I knew he would and he will do what's best for Rangers now he has a more substantial percentage.
"I want to make it clear that this means I will have no ongoing influence or financial interest at the club but I remain a fan and fervently hope that Rangers will soon be back at the top where they belong."