Transfer deadline: Stuart McCall shocked at date difference
Last updated on .From the section Football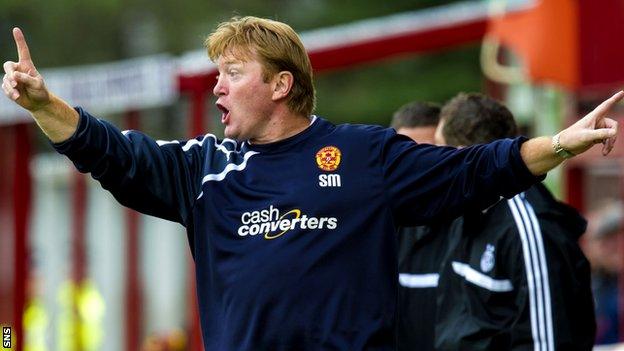 Stuart McCall was shocked to learn that the transfer window closes in Scotland two days before other countries, leaving him open to predatory bids.
The Motherwell manager says the arrival of will be his last signing.
But McCall said: "Someone could make a bid for a player and take him. I think we're open to it.
"It was only a couple of days ago that I realised the deadline. I always thought it was Monday evening."
Transfer window dates are set by world governing body Fifa and most of European leagues will cease summer trading on 2 September.
However, the Scottish FA treats Saturday as a working day, while its counterpart in England does not.
So, while the SFA decided in April to retain 31 August as its closing date, the FA requested an extension until the next working day, which is Monday.
Had the SFA changed its deadline, it could have opened a loophole that could have been exploited by Rangers, who are banned from registering players until Sunday, 1 September.
"It's not a criticism, but I would just like to know why it's different and why we aren't the same as most European teams and obviously in England," said McCall.
"I got the signing I was wanting. But, I must admit, last week I thought that, if we don't get it done this week, at least we've got Monday.
"It has probably been out there and I didn't realise because you see the countdown on television, but they are always referring to England."
Motherwell, who finished runners-up to Celtic last season, have had a mixed start to the Scottish Premiership season, winning two games and losing two.
However, McCall said: "We're happy with what we've got now and we'll look forward."
He again played down the possibility of re-signing Tom Hateley, the versatile midfielder who rejected the offer of a new contract in the summer.
"Regarding Tom, I think he's been in at a few clubs and he might be close to getting in somewhere," said McCall.
"I'm really surprised at the moment that he hasn't got a club because he did really well for us and was consistent, but I'm sure he'll get in somewhere."