Linfield using cameras to combat troublemakers
Last updated on .From the section Football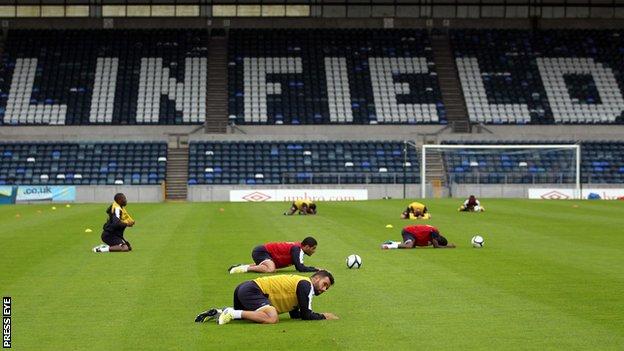 Linfield will have extra cameras at their Irish Premiership match against Glentoran on Saturday in an attempt to deter troublemakers.
The club says the hand-held cameras will focus on spectators guilty of inappropriate behaviour and that prosecutions could follow.
The move follows bottle throwing at a recent game against Cliftonville.
Linfield revealed that the Northern Ireland Football League was investigating the incidents.
"We have been held to account in respect of the behaviour of a small minority of supporters in the Kop stand at the end of the game against Cliftonville when bottles were thrown on to the running track and grass verge of the pitch," a club statement said.
"The club takes this behaviour seriously and as a consequence has, in conjunction with the PSNI, arranged for additional hand held cameras to be used in the stand for this Saturday's game against Glentoran.
"These hand held cameras will be used to focus on those whose behaviour is inappropriate and those involved in such behaviour may be prosecuted.
"The club regrets the need for this action but feels the continued misbehaviour of a small number of supporters, usually at high profile games, is damaging the good name of the club and the reputation of the vast number of Linfield supporters who support the team in the proper manner."