Jose Mourinho: Chelsea deserved to beat Bayern Munich
Last updated on .From the section Football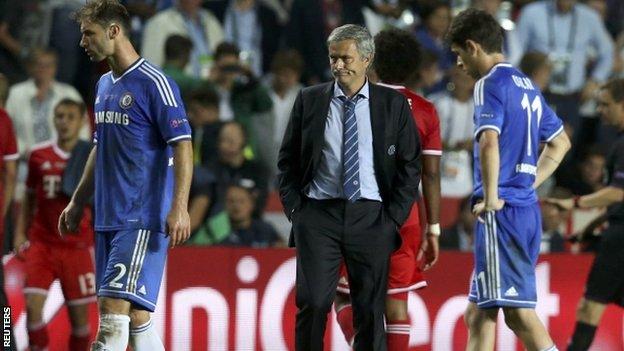 Jose Mourinho said the best team lost as Bayern Munich beat 10-man Chelsea 5-4 on penalties after a 2-2 draw to lift the Uefa Super Cup.
Chelsea came within seconds of winning in Prague, only for substitute Javi Martinez to equalise deep into extra time and take the match to penalties.
Substitute Romelu Lukaku missed the decisive spot-kick but Mourinho was in typically bullish mood after the match.
"The best team clearly lost," he said. "They just scored one more penalty."
Fernando Torres gave Chelsea an early lead but Franck Ribery's goal two minutes into the second half took the game to extra time.
The 85th-minute dismissal of Ramires ultimately left last season's Europa League winners exposed. And even though Eden Hazard restored their advantage in extra time, Martinez poked in late on to take the game to penalties.
After nine successful spot-kicks Lukaku, who spent last season on loan at West Brom, missed the decisive penalty with Manuel Neuer diving low to keep out the Belgian's tame effort.
"The best team played with 10 men for a long, long period in the game. They played against the champions of Europe and they were the best team," Mourinho added. "We only have reasons to be proud, to believe in the future. But I prefer just to say the best team lost and stay with it."
Mourinho criticised referee Jonas Eriksson for sending off Ramires, who was shown a second yellow card for a foul on Mario Gotze.
When asked if he could see why the Swede had dismissed the Brazilian midfielder, he said: "I'd prefer to say no, even if you say yes.
"Rules are rules but there is a very important rule which is common sense, which is the passion for the game. When a referee takes this decision, I'm not sure he's in love with football.
"But I don't remember a better Super Cup than this one, unless it was a time when the Super Cup was in two matches."
Torres looked lively throughout, and Mourinho said he had been impressed by the Spain striker.
"He's worked fantastically since the first day, so I hope he gets confidence in matches like this one. He had a very good match," he said.
Torres will have more competition this season from Cameroon forward Samuel Eto'o, who signed for the Stamford Bridge club on a one-year deal on Thursday.
But when asked if he plans to strengthen his squad further before the transfer deadline on Monday, Mourinho replied: "No, I don't think so."