Transfer window: The 2013 summer in numbers
By Saj Chowdhury
BBC Sport
Last updated on .From the section Football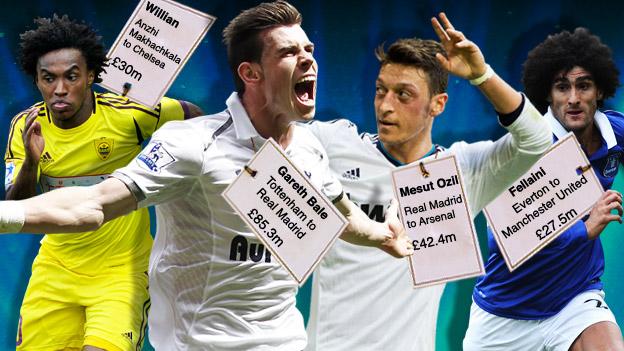 It was a record-breaking transfer window in more ways than one.
The £630m laid out by English top-flight clubs was a 29% increase on the equivalent figure of £490m in 2012, and £130m more than the previous record set in 2008.
The Premier League might have spent more than any other, but Europe's nouveau riche in France, and the 'old moneyed' in Italy, also made headlines.
Below we look at the key statistics, provided by financial analysts Deloitte, of what was a remarkable transfer window.
Who were the big spenders?
The four Premier League clubs competing in this season's Champions League - Arsenal, Chelsea, Manchester City and Manchester United - had a combined gross transfer spend of £230m in the summer transfer window, representing 37% of the aggregate gross transfer spend by Premier League clubs.
Arsenal signalled their intent to spend big and they did, eventually, with the £42.4m signing of Mesut Ozil from Real Madrid on transfer deadline day - the single biggest amount spent by a Premier League club on a player.
Manchester United also left it very late, with their their £27.5m capture of Marouane Fellaini on deadline day falling just short of the £30.75m they paid Tottenham for Dimitar Berbatov in September 2008.
Chelsea did not make any major signings on the final day, but they had already sealed deals for midfielder Willian from Anzhi Makhachkala for £30m and Germany midfielder Andre Schurrle for £18m.
The London club remain top of the spending tree for the last 10 years, having laid out £623m in the summer windows and £135m in the January windows - a combined figure of £758m.
Manchester City are second on the list of transfer spending 2003-2013 (£700m), with Liverpool third (£482m) and Tottenham fourth (£477m)
In fact, it was Tottenham and Manchester City who spent the most this summer, their combined total in the region of £200m, although Spurs will have recouped much of what they have spent through the £85m sale of Gareth Bale to Real Madrid.
Deloitte's Dan Jones: "The story of this summer transfer window is of new records: a new record for Premier League spending as well as a new world transfer record fee. While the sale of Gareth Bale brought £85m into the Premier League, net spending [money going out of the Premier League] is also a record, at £400m.
"As the financial rewards for participation and success in the Premier League increase, so it follows that clubs are investing on the pitch to ensure they continue to benefit from the remarkable Premier League growth story."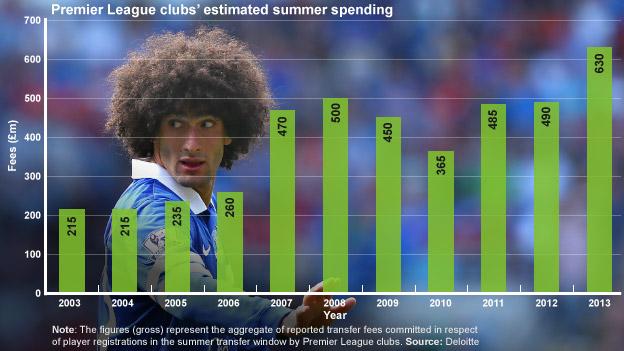 How did summer 2013 compare to previous years?
Quite simply - it is the biggest.
On deadline day alone, spending was up by £30m on the 2012 figure - with £140m spent.
In addition to the £630m spent during the window, the top-flight clubs' net transfer spend was also a new record at £400m. Of this, £370m went to overseas clubs and the remaining £30m into the Football League. The previous record figure was £250m in 2012.
And ready for this stat? Since the introduction of the transfer window system, gross player transfer spending has exceeded £5.3bn, with 80% of this being spent in summer transfer windows. That's quite a few Gareth Bales.
Alex Thorpe, consultant of the Deloitte Sports Business Group: "This is the first year that Premier League clubs will benefit financially from the league's new broadcast deals; each club benefitting from a share of the extra £600m of revenues in 2013-14 alone.
"Testament to the impact this is having is in the scale of Premier League gross spending, as well as the gulf in net spending between the Premier League and other European leagues."
Where did the players come from this summer?
In cash terms, mainly from Europe - in fact, the amount spent on players from outside the Premier League has gone up considerably.
Gross transfer fees to overseas clubs were about £490m, which was more than 60% up on activity during summer 2012. This represented 78% of aggregate gross transfer spend by Premier League clubs, as compared with 61% the previous summer window.
But what about the money spent by Premier League clubs on players who already play in the English leagues?
That was down on last year - £140m was spent this summer compared to £190m in 2012 and £280m in 2011.
The rest of Europe
Across all of the 'big five' top divisions of Europe, gross spending by clubs is up compared with last year. After the Premier League, the next highest spenders were Spain's La Liga and Italy's Serie A, each with a gross spend of £335m, followed by France's Ligue 1 with £315m and the German Bundesliga with £230m.
La Liga (£95m) and Serie A (£10m) both generated surpluses from player trading, while Ligue 1 (£130m) and the Bundeliga (£50m) both spent more than they received.
French football writer Matt Spiro: "Paris St-Germain have had a fine summer - they held on to Zlatan Ibrahimovic and Thiago Silva, and strengthened with Edinson Cavani, Marquinhos and Lucas Digne.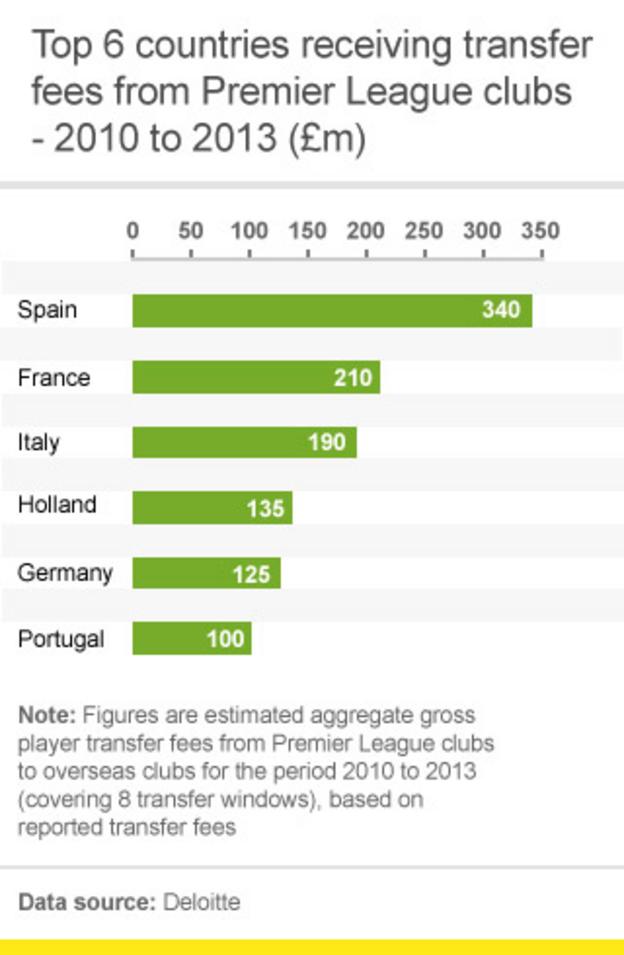 "Monaco have nevertheless dominated an extraordinary summer, spending around £140m on the likes Radamel Falcao and Joao Moutinho. Marseille will also be confident of competing in the title race having added £12.7m signing Florian Thauvin from Lille less than two hours before the window closed."
Italy football writer James Horncastle: "This transfer window has generated so much enthusiasm around Serie A. There was plenty of razzmatazz as Napoli sold Edinson Cavani then went about spending the 64m euros they received for him on Gonzalo Higuain et al. Juventus got the so-called top player they had been after in Carlos Tevez from Manchester City, not to mention Fernando Llorente.
"Fiorentina waved goodbye to Stevan Jovetic but said hello to striker Mario Gomez, a member of Bayern's treble-winning side. Roma bought the future captain of the Netherlands, Kevin Strootman and replaced Erik Lamela with arguably the best player in Serie A towards the end of last season, Adem Ljajic.
"Oh, and Milan fans woke up this morning to discover Kaka is coming back to San Siro. No wonder season ticket sales are up more than 30,000 on this time last year."
Spain football writer Andy West: "La Liga's summer window reflected the economic state of the league, with Barcelona and Real Madrid strengthening while everyone else was forced to sell.
"Barcelona's only transfer action came early when they signed Brazilian wunderkind Neymar from Santos, but Real Madrid later made more changes with the recruitment of young Spanish stars Isco, Asier Illarramendi and Dani Carvajal as well as Gareth Bale, while Mesut Ozil, Gonzalo Higuain and Jose Callejon departed to make way.
"Elsewhere, practically every other team lost at least one of their best players. Atletico Madrid (Radamel Falcao), Real Sociedad (Illarremendi), Valencia (Roberto Soldado), Sevilla (Jesus Navas, Alvaro Negredo, Gary Medel and Geoffrey Kondogbia) and Malaga (everyone) were among those to lose star turns due to financial pressures."
European football writer Andy Brassell: Deadline day is never quite as crazy in continental Europe as in England, and so it proved again.
"Germany may be stereotyped for its punctuality, but the announcement of Mario Gotze's move to Bayern Munich in April got the ball rolling absurdly early - though it did allow Dortmund to react with big deals for Henrikh Mkhitarayan and Pierre-Emerick Aubameyang.
"Making the most of unavoidable big departures was a running theme. Portuguese side Porto banked the money for Joao Moutinho and James Rodriguez's departures and now look even stronger than before signing future stars including Juan Fernando Quintero and Josue.
"Dutch side PSV did likewise after mainstays Kevin Strootman (Roma) and Dries Mertens (Napoli) left, with their young team now built around Adam Maher - keeping the playmaker in the country is a real boon to the Eredivisie."