Mackay hails Cardiff City's start in the Premier League
Last updated on .From the section Cardiff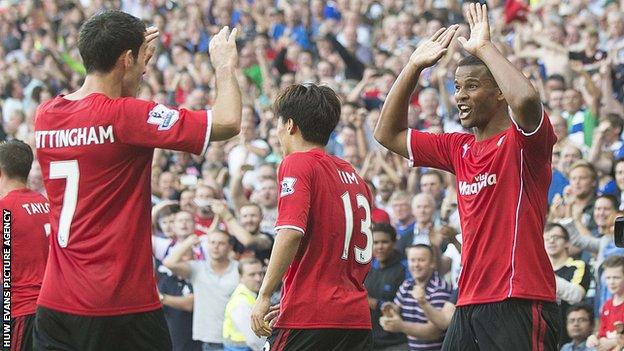 Manager Malky Mackay says Cardiff City should take confidence from their first three games in the Premier League.
Cardiff have four points from a win over Manchester City and Saturday's draw with Everton.
The Bluebirds' next game is away to Hull City on Saturday, 14 September.
"We had the belief I am asking my players to have, and to have four points on the back of the first three games should see them have more confidence," said Mackay.
Cardiff ground out a 0-0 draw with Everton on Saturday at the Cardiff City stadium.
They lost their opening game 2-0 to West Ham but they stunned the Premier League when they secured a 3-2 victory over Manchester City in the Welsh capital.
Mackay admitted he had to get his players to re-focus for the game against Everton after they had beaten the 2012 Premier League champions.
"We knew after last week and all the hype involved, and people still want to discuss it on the Wednesday, Thursday and Friday of this week......we knew we had to focus," said Mackay.
"(We were) Playing against the team which finished sixth in the Barclays Premier League, and let's not forget that.
"I knew we were playing against a top team, with really good players, and a manager who won the FA Cup last year.
"It was always going to be a tough test for us, but we matched them stride for stride.
"Coming out with a point was a fair result.
"It was nip and tuck and it was very close against some really good players."
Mackay says Cardiff, who were promoted as Championship winners, are starting to believe they can be competitive in the Premier League.
"They deserve to be here and they are matching players and playing well against players who have played well in this top division for years," said Mackay.
"I have asked them to trust me and to work for us and the rewards would come.
"I told the fans the players would have sweat on their jerseys every week and that's what they would see.
"Fans forgive mistakes, but they don't forgive lack of effort.
"They have seen effort for two years and its why the fans have embraced this football team, and have been our 12th man for two years."