US Open 2013: Williams and Stephens prepare to renew rivalry
By Piers Newbery
BBC Sport at Flushing Meadows
Last updated on .From the section Tennis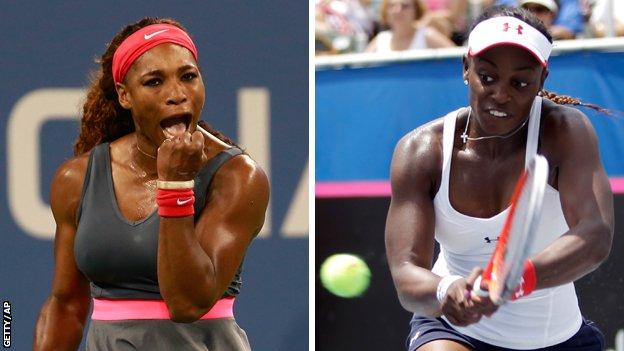 It's the US number one versus the US number two, the queen against the pretender, a grudge match the tennis world has been waiting for.
That's how the billboards would sell the biggest show in New York on Labor Day weekend as Serena Williams takes on 20-year-old Sloane Stephens at the US Open.
Their fourth-round tie at Flushing Meadows is what the locals call "a popcorn match" as world number one and reigning champion Williams faces the player first in line to replace her as American number one.
"I believe it will be a fun match to watch," says legendary coach and BBC Radio 5 live summariser Nick Bollettieri.
"It will draw a lot of attention - the young one coming up and the 31-year-old Serena. It will be a very emotional match with more pressure on Serena than on Sloane."
Two factors give the match an extra edge: firstly, Stephens can beat Williams, as she proved in derailing her Australian Open hopes in January; secondly, Stephens was then quoted in a magazine article saying Williams had snubbed her after Melbourne.
"And that should tell everyone something, how she went from saying all these nice things about me to unfollowing me on Twitter," Stephens was reported to have said.
Williams wisely refused to hit back, saying, "I'm a big Sloane Stephens fan and always have been. I've always said that I think she can be the best in the world," and contrition followed quickly from Stephens who said she had been "guilty of being naïve".
Everyone has been very much on message ever since, with both players repeatedly asked about their relationship over the last week as Sunday's match grew ever more likely.
"Whenever I see her, we talk," said Williams. "Arthur Ashe Kids Day, we were laughing a lot. For me she's a great girl. She's good for tennis, as well.
"I've always really liked Sloane. I have a lot of respect for her."
Stephens was more obviously keen to put the issue behind her, saying: "I think that's all old news now and we've moved on. We're fine, so I think that's all that matters.
"Obviously we're co-workers, we're Fed Cup team-mates. But other than that, everything else is private. It's fine.
"I've obviously learned a lot of lessons early. It's been tough, but I worked through them well. I'm happy where I'm at."
If Stephens has been the one on the back foot off the court, Williams might be the one with more to lose when they step onto Arthur Ashe Stadium at around 20:00 BST on Sunday.
"Sloane is really the girl who hopefully will do as well as Serena," said Bollettieri.
"There will be more pressure on Serena than on Sloane. Sloane is playing loose, she moves brilliantly, she comes from a great athletic background - her dad was a good football player, her mother was a good soccer player and athlete.
"Bu Sloane is playing better match play now on the big points; before it was just sheer athletic talent. She does everything quite well now."
Williams was hampered by an ankle injury in Melbourne and the defeat robbed her of a potential Grand Slam title.
While she has gone on to have a stellar year, a surprise loss to Sabine Lisicki at Wimbledon means she arrived in New York with just one major title to show for some of the best form of her life.
And in the latter stages of her career, as she targets three more Grand Slam titles to overtake Martina Navratilova and Chris Evert on 18, nerves remain a factor.
Facing a young, hungry and very capable compatriot in front of 23,000 New Yorkers is the kind of scenario that will test anyone's mettle.
"For Serena, here's a girl coming up from the same country who's beaten her already this year," said Bollettieri.
"The beginning of that match will be very, very important. What Serena does not want to do is let Sloane get ahead in the first set.
"She's got to come and say, 'Hey, young lady, you won one time - that's enough. You're still in diapers. I'm the momma; you've got to wait a couple more years.'"