Michael Laudrup promises Swansea striker signing
Last updated on .From the section Football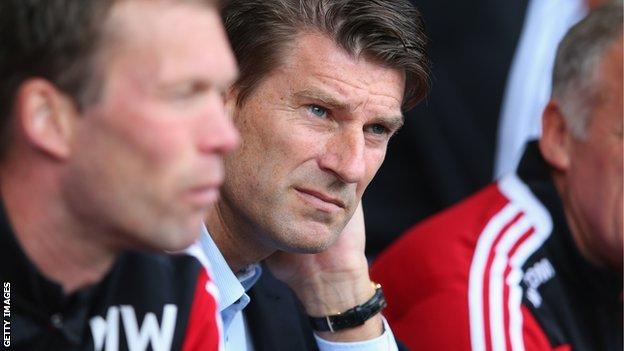 Swansea manager Michael Laudrup has promised a striker signing ahead of Monday's transfer deadline.
Laudrup made the pledge after watching defender Ben Davies and winger Pablo score in their
"We will add one [striker] tomorrow," said Laudrup, adding: "It will be a crazy day."
The Swans boss also believes his side's winning margin at The Hawthorns could have been greater.
After losing against reigning champions Manchester United before succumbing to Tottenham Hotspur, Laudrup admitted beating West Brom was a "very, very important win".
He added: "The way we did it was perfect. After two very difficult games it was so important to get something.
"The performance from the squad I have to be very, very pleased [about].
"In the second half we have really dominated the game.
"I think we could have scored a couple more goals. We had some great chances.
"I was thinking are they going to equalise, but fortunately they didn't."
But after earning their first points of the new campaign, Laudrup remained determined to bring in a fresh face up front.
He said: "I've been asked about a lot of players and I've always said we want one more striker with different characteristics to Wilfried Bony and Michu," he said.
"We will add one tomorrow. We've had five, six, seven players linked and one will join, but not more than one.
"We have to go into the last day [of the transfer window] having not done everything, which is not ideal because it will be a crazy day, but hopefully we'll finish in time.
"I don't want to go into details but let's say we hope to finish it as quickly as possible."
Wales left-back Davies displayed his finishing touch with a volley that opened the scoring.
But the visitors had to wait from 22nd-minute opener until Pablo's 83rd-minute strike to secure victory.
"We could have scored the second a lot earlier and closed the game out," said Davies
"It was a massive win for us.
"I don't think we go out every week and play against teams of Man Utd or Tottenham's quality.
"If we go into those games and we pick up something, that's great.
"If we don't we're obviously disappointed, but we have to appreciate who we're up against.
"Overall it was a very good performance by us."