Liverpool: Brendan Rodgers' men pay perfect tribute to Bill Shankly

By Phil McNulty
Chief football writer
Last updated on .From the section Football738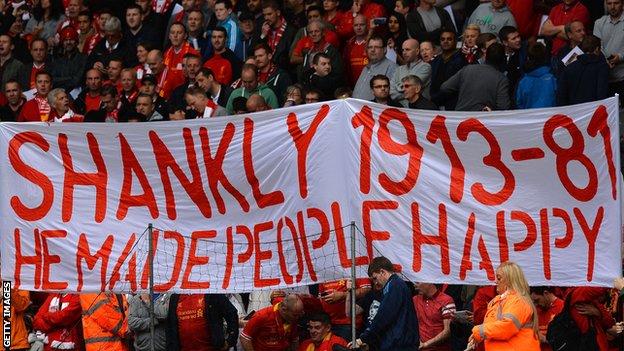 Among all the tributes scattered around Anfield to mark the anniversary of the 100th birthday of Bill Shankly, one would have pleased the legendary Scot more than any other.
The fact that it was achieved with victory over a club he regarded as being among his greatest adversaries only decorated the day even more colourfully for Liverpool.
It may only be three games and the idea of Liverpool as champions remains in the realms of fantasy - but as a symbol of the progress manager Brendan Rodgers believes they have made since the turn of the year, it was the most fitting accolade he and his players could have delivered.
Daniel Sturridge's hot streak continued with his third successive winner and Rodgers will have gleaned just as much pleasure from the fact that new £9m goalkeeper Simon Mignolet - who had a tough act to follow in the popular Pepe Reina - is yet to concede a league goal.
It left Rodgers playing down Liverpool's expectations and his opposite number, Manchester United's new manager David Moyes, playing up a tame performance and applying a gloss it did not deserve.
One of Shankly's many phrases quoted so often was: "First is first and second is nowhere."
The new reality dictates that "first is first but fourth will do nicely as well", and Rodgers said as much after a display marked by impressive resolve rather than fluency.
Rodgers knows that if Liverpool finish fourth this season, and there will be many more battles to overcome, he can regard it as a triumph. Anything else is a bonus.
For Moyes, the task is to retain the title left behind by Sir Alex Ferguson while at the same time putting his own stamp on a club and team that has had his predecessor's DNA running through it for the past 26 years.
Moyes presented what might charitably be called the bravest and most optimistic of faces when he described United's performance as their best of the season and a demonstration of why they are currently Premier League champions.
The reality was that they laboured with the possession they had, even when dominating the second half, and if it was a demonstration of anything it was exactly how important it is that United resolve urgent midfield issues in the next 24 hours - and that they should have addressed them before.
United's fans will cut their new manager some slack but many might have raised an eyebrow after watching events at Anfield unfold only to be told how well their team had played, even though they had lost to Liverpool.
Of course Moyes, despite his experience, is finding his way and he will steadily become acquainted with the new standards required of him. And by United's standards this was not good enough, despite his upbeat demeanour.
For all the stability Michael Carrick brings to midfield, there is a lack of craft and class around him. Tom Cleverley has acquired a reputation his deeds do not deserve and Ashley Young was a bitter disappointment before his removal.
And of course they were also robbed of the influence and creativity of Wayne Rooney, ruled out for three weeks after suffering a head wound in a training ground accident.
In scenes reminiscent of the infamous Arsenal trolley dash - indeed the two trolleys may be racing down the aisles alongside each other on Monday - Moyes must finally make his move.
He seems to have alighted on the giant figure of Everton's Marouane Fellaini in the absence of capturing other targets. And while the Belgian will provide aerial threat, goals and an element of the enforcer, has he really got the craft and creation United require?
This could be where Athletic Bilbao's £30.7m Ander Herrera comes in at this late stage.
While it may seem harsh to pick at a squad that are currently champions it is clear that new faces are required to give United fresh impetus in order to keep pace with their big spending rivals Chelsea, Manchester City and even Tottenham.
For Liverpool, no-one should regard this as the moment when their title-winning intent was declared. This is completely unrealistic despite the wave of elation that swept around Anfield at the final whistle.
It is, however, a statement of their development and growing self-belief. And no-one epitomises this more than goalscorer Sturridge.
Unfulfilled at Manchester City and on the margins at Chelsea, he looks the complete striker in his current mood. If Rodgers can successfully reintegrate the disaffected Luis Suarez following his suspension - and Liverpool have hardly struggled without him - then that top-four ambition may not necessarily be out of reach, despite the fierce competition.
On this day Shankly would have glanced at the league table and given it his approval. The words under his statue at behind The Kop read "He made the people happy".
They were certainly happy enough as they drifted away from Anfield.