Arsenal: Arsene Wenger confident on deadline day signings
Last updated on .From the section Football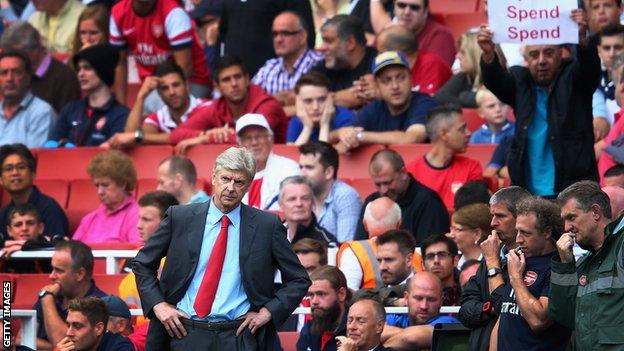 Arsenal boss Arsene Wenger says he is "confident" of bringing in new players before the transfer window closes.
After Arsenal's 1-0 win over Tottenham, Wenger said he was optimistic of new arrivals before Monday's deadline.
"We have 24 more hours, so maybe we can surprise you. Maybe not - but I am confident," Wenger said.
"I am ready to pay what we can afford, even if it is a bit over the market [value] and as long as it is not crazy. I am not against spending."
Arsenal are keen to sign Real Madrid's Karim Benzema and Angel Di Maria, and Newcastle's Yohan Cabaye.
In recent months, the north London club have failed with a move for striker Luis Suarez, seen their £10m offer for midfielder Cabaye rejected and and have been linked with moves for strikers Wayne Rooney of Manchester United and Gonzalo Higuain, who eventually moved from Real Madrid to Napoli.
They are also understood to be interested in bringing in a goalkeeper and a defender before the transfer window shuts at 23:00 BST on Monday, 2 September.
"The need is different for us," Wenger added. "We need one or two super players and we will try to add that. Maybe something will happen in the last 24 hours, maybe not. It is very difficult to predict."