Luis Suarez: Liverpool striker desperate for 'Uruguay immortality'
Last updated on .From the section Football81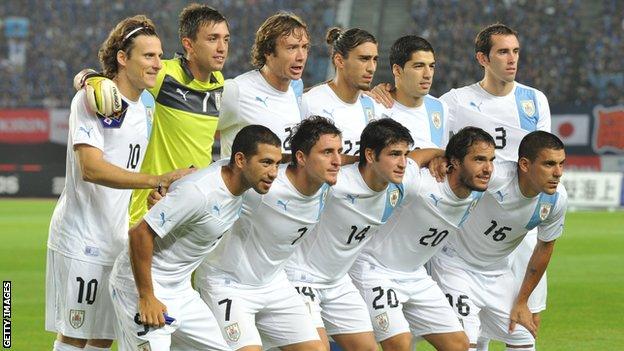 As the transfer window prepares to close, Luis Suarez leaves Liverpool and flies off for a new challenge - he is on his way to Lima, where this Friday Uruguay take on Peru at the sharp end of South America's World Cup qualification campaign.
As the competition moves nearer a conclusion, the four automatic qualifying slots are well on the way to being snapped up.
Argentina, who sit out Friday's round, are all but mathematically certain of their place. One win in four games should be enough for Colombia. Two more wins will surely carry Ecuador and Chile over the line. They meet in next month's final round, though, so one of them might slip up - allowing the teams in the chasing pack to cling to hopes of surging through with a late run.
For the moment, though, those sides are far more concerned with the fight for fifth place, the play-off slot. Whoever claims it will be up against opponents from Asia (either Jordan or Uzbekistan), and will consider themselves firm favourites to earn the last place in Brazil.
And, should they make it through, the South American side will not be embarking on the short trip to Brazil merely to make up the numbers - last time round Uruguay only made it to South Africa via the play-offs and ended up reaching the World Cup semi-finals.
On their home continent next year the South American sides will be full of confidence, no matter how convincing their qualification campaign.
So there is plenty to play for in the three-way battle for fifth place, a context which the coming two rounds will do much to illuminate.
Uruguay have come to regard the play-off position as their own. Usually by the narrowest of margins, the Sky Blues have finished fifth in each of the last three campaigns, and are sitting pretty once more. They are level on points with Venezuela, but with a better goal difference, more goals scored and a game in hand.
But their run-in is fiendishly difficult. The last three matches are against the top three teams in the table - the dreaded trip to the altitude of Quito to face Ecuador, in between home games against Colombia and Argentina.
And first comes that crunch tie away to Peru, who will climb above Uruguay with a win. Then, next Tuesday, Peru visit Venezuela, their other rival for the play-off spot. This, then, is one of the key narrative lines of these two rounds of qualifiers. Peru's fate is in their own hands. Can they take charge of their own destiny and haul themselves closer to their first World Cup in more than thirty years?
As chance would have it, Peru are coached by a deeply patriotic Uruguayan, Sergio Markarian, who decided to embark on his career while watching the land of his birth humiliated by Johan Cruyff's Netherlands in the 1974 World Cup.
Markarian's Peru were unable to get the better of Uruguay two years ago in the semi-final of the 2011 Copa America. But the Peru squad was depleted by injuries, especially in attacking positions. The same problem has undermined the World Cup qualification campaign. Peru were also under-strength when they went down 4-2 to Uruguay in Montevideo in June last year.
In the return game this Friday in Lima it should be a different story. Markarian will be hoping to unleash Paolo Guerrero, Jefferson Farfan and Claudio Pizarro against the Uruguayan backline. And Peru are strong at home. Their away form has been nothing short of disastrous for over a decade, but in Lima they are very tricky opponents.
Uruguay, meanwhile, accumulated some awful away results in the 2012-13 season - losing 4-0 in Colombia, 3-0 in Argentina, 4-1 in Bolivia and 2-0 in Chile. His squad ageing, coach Oscar Washington Tabarez has desperately switched his tactical approach.
He tried a back three, a 4-3-3, an attempt to play more football through central midfield. Then last June, Uruguay won a crucial 1-0 victory away to Venezuela by reverting to an old formula - defend deep, keep two lines of four close together and spring the strikers on the counter-attack. Edinson Cavani got the goal on a night when Luis Suarez was suspended - but the gameplan works far better when the Liverpool striker is present.
That was clear just over two weeks ago when Uruguay earned a morale-boosting 4-2 victory in a warm-up friendly away to a very good Japan side. Suarez was the difference between the two teams. He only scored one, but he terrorised the home defence every time he had an opportunity to run at or behind them, and was involved in all of his side's four goals. Tabarez will be hoping that he can do something similar against the Peruvians.
And Liverpool, too, will be happy if Suarez can keep Uruguay's World Cup charge alive. Generally, few things are more useless than a footballer who does not want to play for his club. But in the case of Suarez, however he may feel about staying at Anfield, he will want to keep himself sharp for national team duty.
If Suarez and company can emulate Uruguay's class of 1950 and win a World Cup on Brazilian soil, then immortality beckons. He gains nothing by staging a sulk at the club's refusal to sell him.
Club managers like to complain about the demands on their players made by international football, but over the next few months it would seem that the interests of Liverpool and Uruguay coincide.
Comments on the piece in the space provided. Questions on South American football to vickerycolumn@hotmail.com, and I'll pick out a couple for next week.
From last week's postbag:
I was hoping that you'll be aware of the momentous anniversary coming up on 5 September. It will be 20 years to the day that my beloved Colombia destroyed their arch rivals Argentina 5-0 at the Estadio Monumental in Buenos Aires.
In that time a lot of things have happened to Colombian football, some of them good but a lot of them bad, leading to the enforced absence from proper international competition which stretches back to France 1998. Things are definitely on the up but for me it is only through a strong national league that Colombia will sustain their return to the glory days of Valderrama, Rincon, Asprilla et al.
Jairo Jaramillo
I certainly am aware of the anniversary. I'm a huge fan of that Colombia side - their collapse under inhumane pressure at USA 94 means that many people fail to appreciate just how good they were. I still sometimes catch myself wondering if the presence of goalkeeper Rene Higuita, who missed that World Cup as he was in prison, might have made a difference.
And what better way for Colombia to celebrate than ensuring qualification for 2014 over these next two rounds. I agree, there are some good signs. But economic realities will continue to mean early moves away for the best players. The trick is, then, to retain an identity even with almost everyone playing abroad. Difficult, but it can be done.
How do you think Yohandry Orozco's career will develop now he has returned to Venezuela? I remember his goal against Peru in the South America U20 Championship a couple of years ago and I'd hope that strike is not the pinnacle of his career. He seems to have all the talent to go to the very top but maybe it's the same story as many South American footballers, moving abroad too young. A couple of years in Venezuela and then maybe back to Europe via Brazil may be the route for him. Could have been a different story if he'd moved to Spain instead of Germany where the change in culture may not have been as big.
Dermot Tobin
He volleyed in an absolute cracker for Venezuela in a friendly against Bolivia a couple of weeks back, so not too many worries on that score. He is very talented and thankfully there is plenty of time for him to pick up momentum again after what you correctly identify as a premature move to Wolfsburg. But for clubs, agents and players it is hard to say no when the money is on the table. Here's hoping that lots of promising careers are not derailed by premature moves on transfer window deadline day!