Gareth Bale: Real Madrid present record signing to fans
Last updated on .From the section European Football
Gareth Bale has been presented to Real Madrid supporters following his world record £85.3m (100m euros) transfer from Tottenham.
The Wales forward received a rapturous reception after stepping out on stage in a dark suit in front of more than 20,000 fans at the Bernabeu Stadium.
Speaking in Spanish, the 24-year-old told fans: "It is a dream to be here in Madrid. Thank you for this welcome."
Bale was then paraded on the pitch wearing the number 11 shirt.
Bale, who scored 21 league goals for Tottenham last season, agreed a £300,000 per week, six-year deal with Real on Sunday evening and passed a medical on Monday morning.
Confirmation of the transfer, which eclipsed the £80m Real paid Manchester United for Cristiano Ronaldo in 2009, followed a summer-long saga involving extensive negotiations between the player, Spurs and Real.
Real fans queued up outside the Bernabeu on Monday before flooding into the stadium to greet their new idol.
They wore replica shirts emblazoned with the player's name, waved scarves and chanted Bale's name during a 10-minute welcome speech from club president Florentino Perez.
"Bale is an exceptional player," said Perez. "The negotiations have been intense, complicated and prolonged, but finally we have achieved our aim and we are delighted to welcome him as part of our team."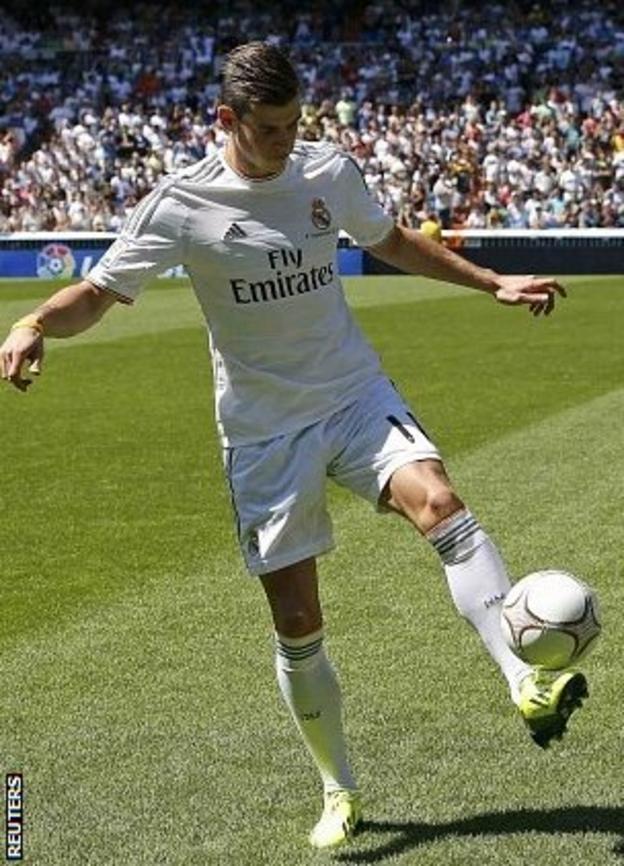 Addressing Bale directly, he added: "We are the most demanding club in the world but we will always be by your side.
"Many of the best players in the world have graced this pitch and you are now following in their footsteps.
"This is your stadium, this is your shirt, these are your supporters. From today on, this is your home and that of your entire family. Welcome to your team, welcome to Real Madrid."
After a short address in Spanish and English, Bale was joined on stage by his family, including baby daughter Alba Violet, for photographs, before heading off to change into his new kit.
Acknowledging applause from the terraces, Bale reappeared to show off his skills on the pitch, and kicked numerous footballs into the stands.
With fans chanting his name, he kissed the badge on his shirt and lashed a left-footed shot into the net.
Bale, who was also given a tour of the club's trophy room, is the latest in a long line of so-called "galacticos" to have played for Real, including former France captain Zinedine Zidane, ex-Brazil striker Ronaldo and David Beckham.
He will line up alongside Cristiano Ronaldo as Real set out to reclaim the Spanish league title from archrivals Barcelona and capture their 10th European Cup.
"Cristiano is the best player in the world and he was a factor for me in deciding to come here," Bale told a news conference.
"He is the boss here and I want to learn from him."
Bale said he had only spoken briefly to Real manager Carlo Ancelotti and would give 100% regardless of what position he occupies on the pitch.
Despite not playing a competitive game for Tottenham this season, Bale said he had been keeping fit and hoped to feature in Wales's World Cup qualifiers against Macedonia on Friday and Serbia the following Tuesday.
Asked about the size of his transfer fee, Bale responded: "The transfer has got nothing to do with me, that's between Real Madrid and Tottenham.
"I wanted to come here, even if it was for a penny."