Guernsey FC: Tony Vance hails FA Cup '60 Saviours' campaign
Last updated on .From the section Football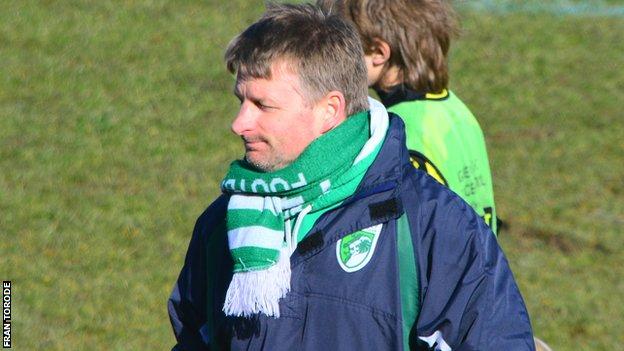 Guernsey FC boss Tony Vance said his side's historic FA Cup victory was a payback for the campaign which allowed the club to compete in the competition.
The 60 Saviours campaign raised money to fund the team's appearances.
"We owed this to the campaign - they're the guys that have made this possible," he told BBC Guernsey.
"We've created FA Cup football in Guernsey, which people probably thought would never happen, and it's another chapter for Guernsey FC."
after the Football Association imposed conditions on them.
The FA insisted the club must share gate receipts as well as paying visiting teams' expenses from home ties.
It also stipulated that if Guernsey earn a replay from an away match or if a tie on the island has to be postponed because of bad weather, then in either case the game would have to be played on the mainland.
"When you look at the situation with regard to the demands set on us at the FA in even being allowed to play in this competition, it was very difficult for us to even compete in it," continued Vance.
"I'm really pleased for the players and for the supporters who made a fantastic effort to be here.
"They saw a brilliant game between two very good sides. We changed our style a little bit out of possession but in possession we tried to be as dynamic as we could and in the first half in particular I thought we were exceptional.
"They were very frustrated at the end - it doesn't seem like they had a Plan B but the way we set ourselves up was based on what we saw last week [when the teams drew 1-1 in the league]. It was a great surface and the boys played well."