Rangers: boardroom change proposals delayed further
Last updated on .From the section Football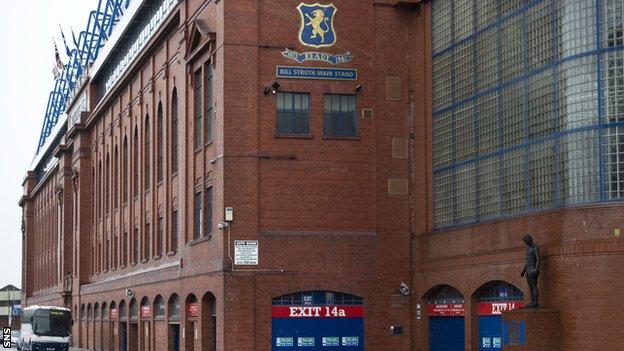 Rangers have further extended discussions with shareholders seeking to force a vote on the removal of three of the current board.
A Stock Exchange statement said "the company" sought evidence that parties seeking change had sufficient shares to force an Extraordinary General Meeting.
That was provided by one requisitioner known as Artemis, but no others.
The board is hopeful of rolling the business into the Annual General Meeting, due to be held in October.
The factions have until the close of business on 9 September to reach an agreement or the EGM will be convened.
The deadline for agreeing to postpone an Extraordinary General Meeting of shareholders was the close of business on Friday 30 August, meaning the board would be required to notify shareholders of the EGM by 5 September.
and 27 August had been set as a deadline for all legal paperwork to be lodged.
However, the two parties were unable to reach agreement.
The group, which includes businessman Jim McColl, is seeking changes on the company board, including the removal of chief executive Craig Mather, finance director Brian Stockbridge and Bryan Smart.
Additionally, they are keen on Paul Murray and Frank Blin becoming directors.
The board responded with openness to the prospect of Blin's appointment but have questioned the merits of other suggested resolutions.