Hearts: Jamie Hamill's red card for handball to be appealed

By Brian McLauchlin
BBC Scotland
Last updated on .From the section Football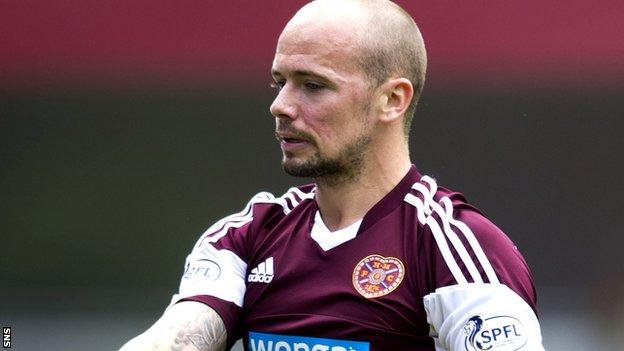 Hearts will appeal against the red card shown to Jamie Hamill in Saturday's Premiership loss at Inverness.
Referee John Beaton sent Hamill off for a deliberate handball when Billy McKay's shot struck him in box, but TV replays suggest it hit his head.
Hearts boss Gary Locke said: "I've seen the incident again and everyone can see it cleanly hits him in the face.
"But hopefully everyone will see sense and it'll be rescinded."
Hamill's red card was the third received by the Edinburgh side in their last two league matches.
Full-back Kevin McHattie and centre-back Danny Wilson were both sent off against Aberdeen at Tynecastle.
Wilson received his after the final whistle for using language deemed offensive and insulting directed at the opposing team's players.
Hearts had appealed the red card given to McHattie - for a foul on Aberdeen's Calvin Zola which conceded a penalty - but the appeal was rejected by the SFA's disciplinary panel.
"We've had a couple of sendings-off and obviously we've dealt with it," Locke told BBC Scotland.
"We appealed Kevin McHattie's because I felt it was a good challenge, but obviously we didn't win that one.
"But certainly Saturday's is blatant from camera angles all over the place that it hits him in the face. I think common sense will prevail and Jamie will be alright for the Celtic game.
"Obviously it's a mistake by the referee - we all make mistakes."