2014 African World Cup qualifying A-E
Last updated on .From the section Football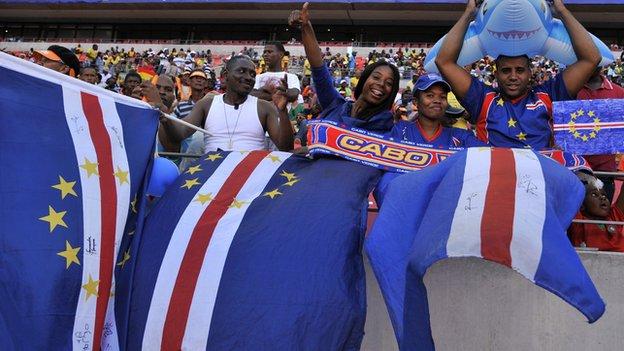 Cape Verde, Burkina Faso, Ethiopia and Ghana secured themselves places in African play-offs for the 2014 World Cup.
Ethiopia were one of several sides during Africa's World Cup qualifying campaign who had results overturned by Fifa for using ineligible players.
There was a touch of irony in the fact that Ethiopia's winning goal in a their 2-1 victory over Central African Republic in Group A was scored by Minyahil Teshome Beyene.
He was the man who lead to his side being docked points in July.
Cape Verde were the beneficiaries of another ruling from Fifa on ineligible players as they gained three points for Equatorial Guinea's use of Emilio Nsue Lopez in both games against them.
Despite that Tunisia only needed a draw in the final Group B game at home to Cape Verde but lost 2-0.
There was also drama in Group E as Burkina Faso claimed top spot ahead of Congo Brazzaville.
Congo were held to a 2-2 draw in Niger which allowed Burkina Faso to move ahead of them thanks to a 1-0 win over visiting Gabon.
Ghana beat Zambia 2-1 in Kumasi on Friday to win Group D and reach the play-off draw on 16 September.
Here is BBC Sport's look at all the matches in Groups A to E - with only the pool winners advancing to the play-offs.
The games in F to J can be found here. The first legs of the play-off ties will be played between 11-15 October and the return legs between 15-19 November.
Group A
Saturday: Central African Republic 1-2 Ethiopia, South Africa 4-1 Botswana
Ethiopia had to come from behind to seal their place in the play-offs with a 2-1 win over Central African Republic.
The game was played in Brazzaville due to the continued security issues in Bangui.
Salif Keita looked like he had handed South Africa a lifeline when he scored for CAR after 23 minutes.
Ethiopia's come back began shortly after the break when striker Saladin Said levelled things for his side.
The win that the Waliya Antelope needed was sealed by Minyahil Teshome Beyene on the hour mark.
It is the second time the Ethiopians have celebrated winning the group they thought they had done it back in June when they beat South Africa.
However they were then denied a place when it emerged Teshome should have been suspended for an earlier game against Botswana.
South Africa easily beat Botswana 4-1 in Durban, but it was not enough for them to overhaul Ethiopia at the top of the group.
Kermit Erasmus and Dean Furman both scored before half-time for Bafana Bafana.
The half-time scores in the two matches meant that South Africa looked like they might grab top place from Ethiopia.
Botswana pulled a goal back through Jerome Ramatlhakwane before Bernard Parker scored twice for Bafana Bafana, including one a penalty, to make sure of the three points for South Africa.
But with Ethiopia having also won the South Africans were eliminated from the World Cup qualifiers despite the win.
Group B
Saturday: Tunisia 0-2 Cape Verde, Sierra Leone 3-2 Equatorial Guinea
Cape Verde stunned Tunisia with a 2-0 in Rades to finish top of the group and qualify for the play-offs.
The hosts needed just a draw to advance but were beaten by two first half goals from Platini and Heldon Nhuck that gave the Blue Sharks the three points they needed.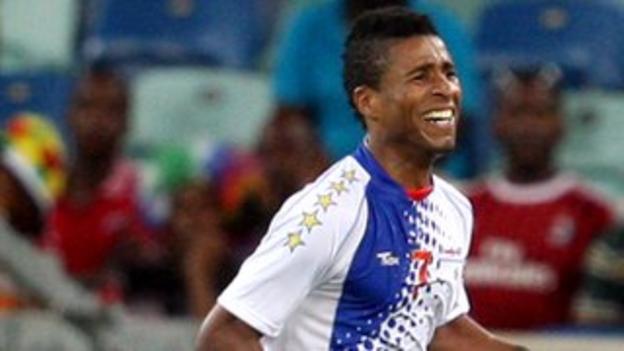 Tunisia had thought they were through to the play-offs in June but were denied when Fifa overturned the results of two earlier qualifiers that allowed Cape Verde back into the race.
The Blue Sharks' lifeline came from Equatorial Guinea using an ineligible player in both qualifiers against them, with Fifa ruling that Emilio Nsue Lopez did not meet its criteria on nationality.
Equatorial Guinea finished bottom of the group as they lost their final game 3-2 in Sierra Leone,
The hosts scored through Mustapha Bangura and an Ibrahim Kargbo penalty before the break and Alhassan Kamara in the 70th minute.
The Nzalang Nationale then scored twice in the final moments of the match to give the final result some respectability.
Group C
Saturday: The Gambia 2-0 Tanzania, Ivory Coast 1-1 Morocco
Ivory Coast remained unbeaten in their World Cup qualifying campaign with a 1-1 draw at home to Morocco.
The visitors took the lead through Youssef Al Arabi eight minutes after half-time.
Captain Didier Drogba equalised for the Elephants from the penalty spot with just seven minutes left to play.
Having not played since the Africa Cup of Nations Drogba had retained his place in coach Sabri Lamouchi's squad after being recalled for the 4-1 loss to Mexico in a friendly last month.
Morocco were the only nation to take points off the Elephants twice holding them to a draw.
The Gambia got a consolation first win of the campaign with a 2-0 win over visiting Tanzania.
Mustapha Jarjue scored either side of half-time for the Scorpions.
Despite the victory The Gambia still finished bottom of the group.
Group D
Friday: Ghana 2-1 Zambia, Sunday: Sudan 2-3 Lesotho (Omdurman)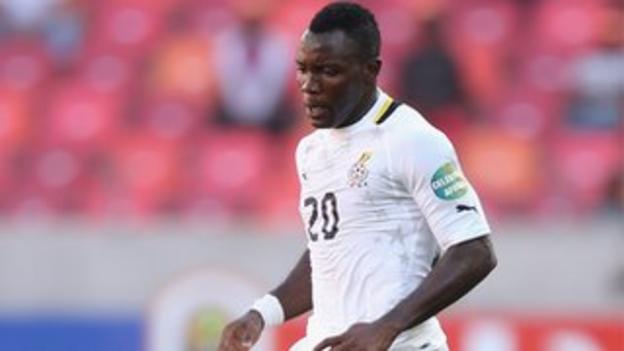 Ghana went into their match against Zambia in Kumasi needing just a point to advance.
A diving header from Abdul Majeed Waris and a thumping long range effort from Kwadwo Asamoah ensured victory.
Nathan Sinkala pulled one back for the visitors but the Black Stars held on to collect three points.
Michael Essien was a second half substitute for Ghana and returned from his long international absence despite the recent death of his father.
But another returnee Kevin-Prince Boateng played no part in the match after being ruled out by injury.
Friday's game was preceded by a series of accusations by Zambia of Ghanaian gamesmanship, including delaying their arrival by refusing landing rights for their charter plane and then denying them the chance to train at the venue on the eve of the game.
Ghana denied the allegations and accused the Zambians of failing to plan their trip.
Sudan entertained Lesotho on Sunday in a match to determine the recipients of the wooded spoon. It was awarded to the hosts after Lesotho won 3-2 in an entertaining mach.
Group E
Saturday: Burkina Faso 1-0 Gabon, Niger 2-2 Congo-Brazzaville
Africa Cup of Nations runners-up Burkina Faso beat visiting Gabon 1-0 to take advantage of Congo's failure to win in Niger.
Prejuce Nakoulma scored the only goal of the game for the Stallions 10 minutes after half-time.
They then had to wait for confirmation of the final score from Niamey as Niger held Congo to a 2-2 draw.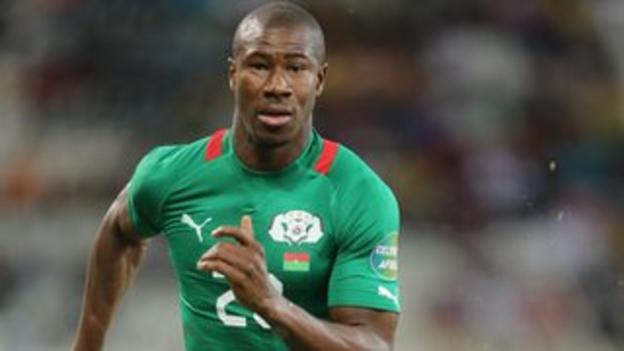 The Red Devils twice fought from a goal down but could not find the winner that would have taken them through to the play-offs at the expense of Burkina Faso.
Niger took the lead after 34 minutes through Mahamane Cisse before Fabrice Nguessi equalised 20 minutes after half-time.
Daouda Kamilou restored the lead for Niger just four minutes later and then with 15 minutes remaining Ulrich Kapolongo gave Congo hope once again.
But the Congolese could not force the winner they needed to win the group.
Burkina Faso as well as Gabon had lost points in the campaign due to eligibility issues over nationality, leaving the group to be decided by the final matches.
It was a second missed chance for Congo who would have advanced if they had drawn with Burkina Faso in June rather than losing.