Police act on sectarian chanting at Windsor Park
Last updated on .From the section Football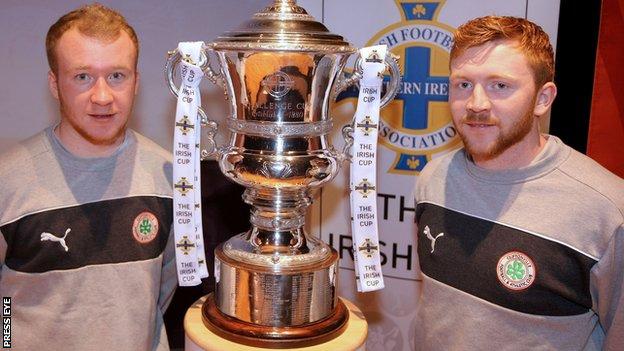 Two men have been reported to the Public Prosecution Service over alleged sectarian chanting at Saturday's game between Linfield and Glentoran.
The move follows claims by Cliftonville players Liam Boyce and Conor Devlin that they were the targets of sectarian abuse at the Windsor Park game.
The police said a 19-year-old man was ejected from the ground and a man, 29, was cautioned for sectarian chanting.
They added that the actions followed an incident involving two other males.
Boyce, the Irish League's current player of the year, and highly-rated goalkeeper Devlin attended the 'big two' game having been given tickets by a Linfield player.
The first reports of Saturday's incident appeared on their respective Twitter accounts.
"All fans were dead on and having a bit of banter but there is always one to ruin it," wrote Boyce, who revealed he and team-mate Devlin had been given police escorts from the ground.
The Police Service of Northern Ireland said the incident was being treated as sectarian and enquiries were continuing and that the 19 year old male and the 29 year old male had been reported to the Public Prosecution Service.
Area Commander for South Belfast, Chief Inspector Gabriel Moran said: "The PSNI are committed to working with football clubs to help ensure that the environment at sporting engagements is one which can be enjoyed by everyone.
"Specific legislation was introduced in relation to football grounds that provides a mechanism for officers to tackle behaviour that is unacceptable and which is anti-social. Officers will use this legislation to help create a safer environment for all spectators."