Gareth Bale plus Ronaldo will mean Real dominance - Saunders
Last updated on .From the section Wales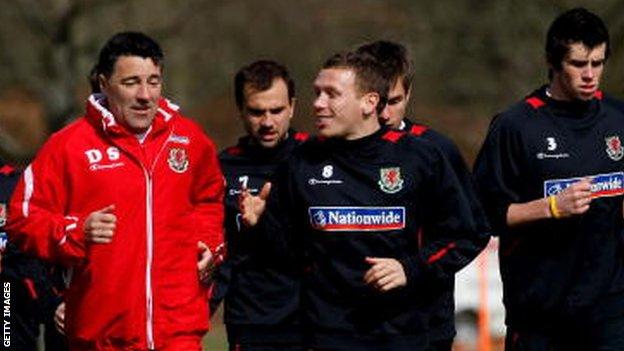 Real Madrid have sealed world dominance by partnering new signing Gareth Bale with Cristiano Ronaldo, according to former Wales striker Dean Saunders.
Saunders, a former Wales assistant manager, believes Bale and Ronaldo will be a potent attacking force.
"Forget the money they have paid for him, they have almost sealed world dominance," said Saunders.
"Imagine, you have him coming down one side and Ronaldo coming down the other side . . . good luck!"
Bale, 24, was greeted with a rapturous reception when he stepped out in front of more than 20,000 fans at the Bernabeu Stadium on Monday afternoon.
The Wales striker spoke in Spanish during his press conference in Madrid but flew back to Wales afterwards to join the Welsh squad in Cardiff.
Bale hasn't played for over a month, and will face fitness checks on Tuesday before it's decided whether he'll travel to Macedonia for Friday's World Cup qualifying match.
Wales then face Serbia on Tuesday, 10 September, with Bale saying he'd like to play in both games.
Saunders was John Toshack's right hand man during the former Real Madrid manager's six-year stint as Wales manager.
Toshack handed Bale his Wales debut in the 2-1 win over Trinidad and Tobago back in May 2006, to make his his country's youngest international at 16 years and 315 days.
and Saunders believes Bale impressed with his polished performance in front of the world's media.
"Gareth has done the press conference in Spanish, which immediately makes everyone in Spain respect him and like him," said Saunders.
"He has done the right thing there and he has had some good advice.
"He looks confident, he doesn't look like he is overawed by the whole thing and he looks like he means business as well."
Saunders enjoyed his own spells abroad as a player when he played for Galatasaray in Turkey and Benfica in Portugal,
Swansea-born Saunders scored 22 goals in his 75-cap Wales career and played alongside some of the greats of Welsh football, like Ian Rush, Mark Hughes and Ryan Giggs.
Strikers Rush and Hughes both has spells abroad, with Rush at Juventus and Hughes with Barcelona and Bayern Munch, and enjoyed mixed fortunes in Europe.
But Saunders, who has managed Wrexham, Doncaster Rovers and Wolves, believes Bale is a special talent.
"You could see he was a bit different from everybody else and a bit special," said Saunders.
"If you ask any of the players, they would tell you exactly the same. It's like seeing a Rolls Royce in a car park, it stands out.
"The way he travels, he looks like he is not at top speed, while everybody else is sprinting around him.
"Some of the things he does in training...I feel privileged to have coached him, but really I just watched him training because he was a natural."
BBC Wales will screen a special programme - Gareth Bale: The Real deal - at 22:35 BST on BBC 1 Wales on Tuesday, 3 September.