Transfer Deadline Day: Man Utd struggle as rivals spend

By Phil McNulty
Chief football writer
Last updated on .From the section Football1966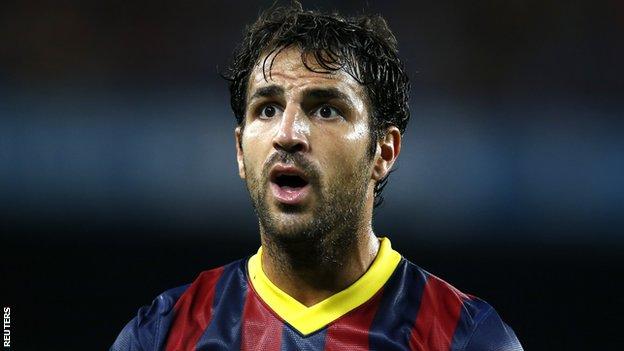 Manchester United's scramble to get the deal for Marouane Fellaini from Everton over the line moments before the transfer window closed symbolised the confusion in a summer when a clear transfer strategy was conspicuously absent from Old Trafford.
And coming just 24 hours after the disappointing performance in defeat at Liverpool, it will have only increased the concerns of any United fans worried about life after Sir Alex Ferguson.
When new manager David Moyes walked through the doors to succeed Ferguson after 26 years, it was expected that United's new chief executive Ed Woodward would help him make a powerful statement of intent about the new era.
Instead, as Arsenal were claiming the honours with a stunning coup in the shape of a £42.4m deal for Real Madrid's outstanding Germany midfield man Mesut Ozil, United were left looking off the pace and struggling to close the big deals that their supporters understandably demand.
From the bold early summer claims in pursuit of Barcelona pair Thiago Alcantara and Cesc Fabregas - a chase that rarely looked anything other than doomed - Moyes and Woodward were left burning the midnight oil to do the deal for Everton's Fellaini and try to set up a loan deal for Real Madrid defender Fabio Coentrao.
And in the background in deadline week was another ill-fated move, this time for Athletic Bilbao's Ander Herrera, that ran aground as United could not agree a fee centred on complications surrounding his proposed £30.5m release clause and claims of impostors (no fault of United's if true it should be said) attempting to get involved in the deal.
While Moyes will be delighted to be reunited with Fellaini, who he brought to Everton in a £15m transfer from Standard Liege in September 2008, there are still questions about how United eventually arrived at a £27.5m deal for the 25-year-old and whether he is the sort of player they actually require.
He will be disappointed, however, that he was unable to complete a double deal for his former Everton players by signing England defender Leighton Baines.
Examine the timeline of this deal and it does not flatter United. In fact, it does the exact opposite.
United made a £28m offer for both Fellaini and Baines in August that was dismissed as "derisory and insulting" by Everton. And when the deal was finally secured, United - according to Everton's own official figure - ended up paying only £500,000 less for Fellaini alone.
If there was a logic and strategy involved, it takes quite some unravelling.
And to add insult to injury United have also ended up paying more than the £23.5m release clause in Fellaini's contract, ironically inserted when Moyes was his manager at Everton, and which expired at the end of July.
It raised questions of how high Fellaini was on Moyes' original list of priorities when he knew he could be secured for this figure before the start of August and has ended up paying more in September.
Fellaini, while a fine player, does not appear to be the identikit of the sort of midfield player needed to reinvigorate a department of United's team that is in urgent need of repair.
He will provide power, aerial threat and goals. Fellaini will also provide an element of enforcement but will he really provide the element of craft and creation United's midfield needs?
It has been a testing transfer window for Moyes and Woodward, a trusted aide of the Glazers, and there is no doubt many United supporters will be unimpressed with the end result of their summer's work.
Moyes is still feeling his way and there is no doubt he is operating in a completely different world to the one he was used to at Everton, where both his budget and scope of potential targets was limited.
And does he have the same pull as Ferguson when it comes to attracting players? Again not his fault, but there is little doubt the allure of playing for the legendary Scot carried a special appeal.
Woodward is stepping into the shoes of the highly respected David Gill and the evidence suggests he has struggled to get to grips with the hazardous business of closing out big deals in an increasingly cut-throat market.
Do clubs find it easier to say "no" to Moyes and Woodward than they did to Ferguson and Gill?
Everton and chairman Bill Kenwright certainly stood their ground firmly, getting a very respectable fee for Fellaini and quite simply refusing to countenance the sale of Baines.
The sense of anti-climax at Old Trafford was in sharp contrast to elation at Arsenal following the capture of 24-year-old Ozil.
Here is the player of the "super quality" manager Arsene Wenger insisted he would add - and the sort of player many feel would have provided that missing ingredient to Manchester United.
Chief executive Ivan Gazidis pledged that Arsenal would escalate their spending this summer and show the financial ambition to compete with the best. For all the criticism they received - and they did leave it late in the day - Ozil is living proof that there is high ambition at Arsenal as this deal was pushed through.
In among the other transfer events, the other big deadline day winners were Everton.
As important as any incomings was keeping their outstanding left-back Baines, who is now likely to be rewarded for his loyalty and complete professionalism throughout United's interest with a lucrative new contract.
They may have lost Fellaini but the loan signing of Romelu Lukaku will delight their supporters. The 20-year-old Belgian was outstanding on loan at West Bromwich Albion last season and his signature is a real coup for new Everton manager Roberto Martinez and Kenwright.
Kenwright's close relationship with Lukaku's representatives helped swing the deal in Everton's favour and left the Baggies bitterly disappointed as they hoped to bring him back to The Hawthorns. He is often the target for criticism at Everton so it is only right he receives credit for his part here.
Wigan's James McCarthy is young midfield player rich in promise while Gareth Barry, on loan from Manchester City, provides a counterpoint of experience.
The big questions, however, will surround the manner in which Manchester United's transfer business was, or more significantly was not, concluded.
And the verdict has to be - must do better. A lot better.