Transfer deadline day followed by millions on BBC Sport
Last updated on .From the section Football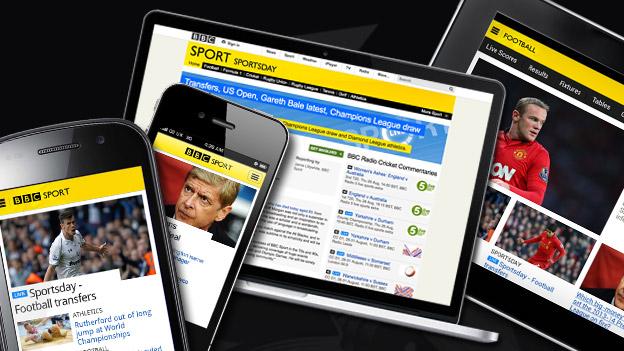 BBC Sport's online coverage of transfer deadline day was followed by 9.4m browsers worldwide, the highest outside of the London Olympics.
Over 6.4m users were from the UK, while the 3m global figure was also a record.
A special 22:35 BST edition of Football Focus on BBC One attracted an average audience of 1.8m, with 1.077m viewers watching updates throughout the day on the Red Button and another 600,000 viewing online.
More than 38,000 listened to BBC Radio 5 live's Monday Night Club through the BBC Sport website.
As well as stories on every transfer from across the Premier League and Football League, the BBC Sport website's live text commentary ran from 07:00 BST on Monday until shortly after 01:00 BST on Tuesday. This service had a total of 18m page views and attracted close to 2m browsers as fans checked repeatedly in to keep up-to-date with the latest news.
Outside the Olympics, the total of 6.4m UK users has only ever been bettered once before. That was 5 July this year - the day Andy Murray beat Jerzy Janowicz in the Wimbledon semi-final - when 6.5m logged on.
Taking into account worldwide browsers, the previous non-Olympics high for total users was 8.6m on the day Sir Alex Ferguson announced his retirement as Manchester United manager in May.
For global users alone, the record was 2.7m during London 2012.
Just over half the audiences in the UK was on either a mobile or tablet, with 47.7% on desktop computers.
You can also download the BBC Sport app to stay on top of the news while you are out and about. More than 2m people already have.