Transfer window: 10 things we learned this summer
By Sam Sheringham
BBC Sport
Last updated on .From the section Football771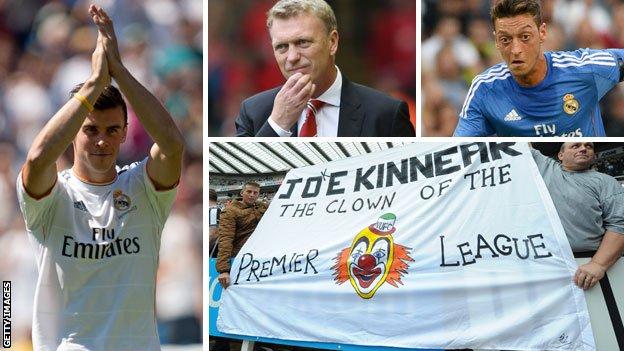 Monday night's closure of the transfer window brought an end to a record-breaking summer of hype, hesitation, hope and heartbreak.
Now that the fun is over, football fans all over the country are like mis-matched partners on awkward blind dates, asking each other "what are we going to talk about now?"
But just before we put this window to bed and start willing the January sales to arrive, let's reflect on some of the lessons that have been learned from the summer's comings and goings in the Premier League.
1)Do your business early
Chastened by the loss of their title to Manchester United, Manchester City began overhauling their squad almost as soon as the season had ended, snapping up Fernandinho, Jesus Navas, Stevan Jovetic and Alvaro Negredo for almost £90m by mid-July.
Meanwhile, Manchester United boss David Moyes and his Arsenal counterpart Arsene Wenger resembled stressed-out husbands on Christmas Eve as they shopped around at the last minute and did not make their first significant purchase until the final hour of the window.
2)Don't change your manager and chief executive at the same time
United's botched transfer policy, which saw high-profile moves for Spain-based trio Cesc Fabregas, Thiago Alcantara and Ander Herrera break down, before Marouane Fellaini joined in the final half hour of the window, has thrown the spotlight on the relationship between new chief executive Ed Woodward and manager David Moyes.
Their predecessors David Gill and Sir Alex Ferguson were always going to be difficult acts to follow at Old Trafford, but did the club err by allowing both to depart in quick succession?
3)North East soap opera still delivers
When Joe Kinnear was appointed as Newcastle's director of football in June, he not only claimed to have "more intelligence" than the club's fans, he also boasted that he could "open the door to any football manager in the world". But Kinnear's quest to strengthen a squad that only avoided relegation by five points last season has resulted in very little, with Loic Remy's loan signing from QPR their only noteworthy acquisition.
Meanwhile, down the road at Sunderland, a chaotic summer has seen no fewer than 14 new faces brought in and 15 shipped out by boss Paolo Di Canio. In theory, the Italian now has the squad he wants, but after no wins in three games he is under pressure to prove there is method in his madness.
4)You can sell your best player and still keep fans happy
If you were making a movie of the transfer window, then Daniel Levy would have few rivals for the leading role. The Tottenham chairman pulled off a masterstroke in appointing Franco Baldini as his director of football, and with the help of the Italian's contacts, has attracted some of the brightest talents available to a club that is not even competing in the Champions League.
Only when he had strengthened his squad in all areas did Levy allow Gareth Bale to depart to Real Madrid for a fee that ensured Spurs ended the window in credit.
5)Player power isn't everything
Bale may have eventually realised his dream of a move to Real Madrid, but this was the window that taught us that players do not always get what they want. Manchester United striker Wayne Rooney and Liverpool's Luis Suarez both agitated for a move, but when their clubs flatly refused to sanction a transfer to a rival from the same league, both were forced to stay.
6)Premier League struggles to attract the best
Although the Premier League's overall spend of £630m nearly doubled that of any other European league, there was plenty of evidence that the world's top players are increasingly looking to ply their trade elsewhere.
The billionaire takeovers at French clubs Monaco and Paris St-Germain persuaded star strikers Radamel Falcao and Edinson Cavani to choose Ligue 1 over the Premier League, while the enduring allure of Real Madrid and Barcelona drew Bale and Neymar to Spain.
Overall, three of the 10 biggest deals across Europe involved players moving to clubs in England, and only one of the top eight.
7)English players - overpriced and overlooked
Scrolling down the endless list of Premier League ins and outs this summer, one striking factor is the scarcity of deals involving English players. Of last year's top seven clubs, Chelsea were the only team to pay a transfer fee for an English player, and that was the £209,000 they handed West Brom for 16-year-old Isaiah Brown.
Andy Carroll, who cost West Ham £15.5m from Liverpool, was the only Englishman to command a fee of more than £8m.
Long considered to be overpriced, English players are being increasingly overlooked.
8)Give teams money, they will spend it
Flush with the cash from their £3bn TV deal, Premier League teams have been spending like never before. A staggering 10 of the 20 clubs - including all three promoted sides - broke their transfer record this summer, with Norwich, Southampton and Cardiff all splashing out more than £25m on new recruits.
9)If you want a player on loan, go to Chelsea
Just when you thought he was mellowing, Chelsea owner Roman Abramovich provided a reminder of his ruthless streak by hijacking Tottenham's deal for Anzhi Makhachkala midfielder Willian with an 11th-hour £30m deal.
The Russian, however, has been making a concerted effort to trim the club's wage bill by farming out no fewer than 23 players on loan this summer.
10)Nobody does a transfer quite like Real Madrid
Real Madrid underlined their status as the richest club on the planet by breaking the world transfer record for the fifth time in a row to make Bale their latest "galactico".
The summer-long deal to capture Bale may have moved along at the pace of a Terrence Malick film at times, but it ended with fanfare straight from Hollywood as more than 20,000 supporters turned up at the Bernabeu to greet their new idol as he was unveiled on a giant stage before performing tricks out on the field.