Mesut Ozil: Arsenal signing excites Theo Walcott
Last updated on .From the section Football
Arsenal winger Theo Walcott is relishing Germany midfielder Mesut Ozil's arrival at the club.
"It's very exciting. I played against him for England Under-21s, he showed his qualities then and he has showed them since," said Walcott.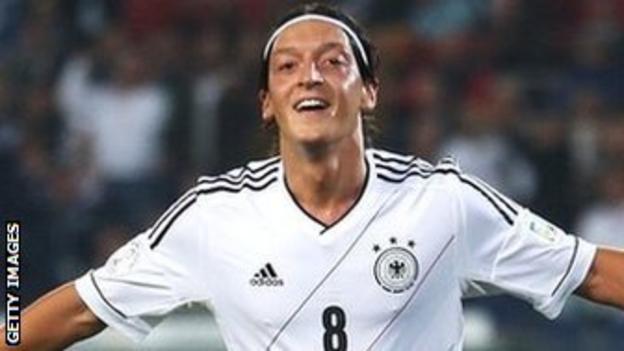 "He's a great addition and personally I'm looking forward to playing alongside him."
Arsenal suffered a 3-1 home defeat by Aston Villa on the opening day of the season but have since secured a place in the Champions League group stages for the 16th consecutive year with a 5-0 aggregate victory over Fenerbahce and have also beaten Fulham and Tottenham in the league.
"We had a disappointing start to the season but we've bounced back and it's looking fantastic now," said Walcott. The likes of Ozil joining the club is only going to boost everyone's confidence and everyone's going to be on a massive high."
The 24-year-old, who joined Arsenal in 2006, was speaking at a press conference ahead of England's match against Moldova at Wembley on Friday.
Roy Hodgson's team can move to the top of Group H with a victory if current leaders Montenegro fail to win in Poland.
"With the youngsters coming in it's a great balance we've got and it's looking very strong," Walcott added. "In the past we haven't been as good at Wembley but in recent matches you can start to see a change."
Last season the Arsenal right-sided forward revealed a desire to play as a central striker but admitted to a change of heart and said: "Things are going well on the right and when things are going well you don't really want to change too many things.
"For Arsenal you've got Ollie [Olivier Giroud] up front who's doing fantastically well at the moment and for England we've got some top quality strikers, Danny [Daniel Sturridge] is in absolute form at the moment, Rickie [Lambert], Danny Welbeck as well, they're all looking sharp.
"For England you'll play anywhere. When you put that England shirt on it means the world just to be on the pitch."