Gateshead: Gary Mills keen to spread football philosophy
By Matt Newsum
BBC North East and Cumbria Sport
Last updated on .From the section Football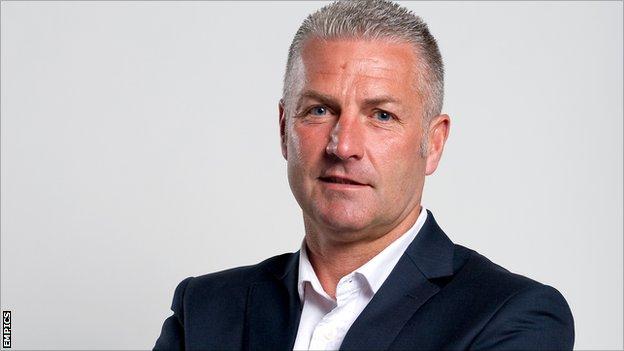 Like many of Brian Clough's former players, new Gateshead manager Gary Mills has brought certain influences from the great manager to his coaching style.
Then again, like many of Clough's ex-pupils, he is no carbon-copy.
"Of course I learned from the man. He always used to say, 'it's a simple game', and it is a simple game," Mills told BBC Sport.
"But I'm my own man, if you try to copy Clough you'll fall flat on your face.
"He was a genius in every way you could think of, and I think there's been quite a few players who played under him that went into work with the same philosophy and it's no secret most of them have been successful."
Having been part of Nottingham Forest's short-but-sweet period of success under Clough in the late 1970s and early 1980s, it is no surprise such footballing habits were instilled.
Mills' penchant for passing earned him plaudits and promotion to the Football League at York City, with all the hallmarks of Clough's blueprint.
He also won the FA Trophy at Wembley that same season, a remarkable double for the Minstermen in 2012.
"My philosophy is to play football with the ball on the deck, to play attacking football, to be disciplined with and without the ball, to be disciplined in and around the football club, to be disciplined in the city when you're representing the football club and be professional at all times," he added.
"People will soon learn that is what I demand, what I want and that's what the players that play for me want and I respect that.
"I enjoy it, I smile when I do that and I want to smile a lot while I'm here, I want to be successful."
In addition to Clough, Mills played his career under a variety of high-profile managers - including Neil Warnock, Brian Little and David Pleat - all of which helped shape his outlook in a variety of ways.
"It happens with every manager you play under, [what you learn are] not necessarily positives as some are negatives that you think, 'I don't ever want to do it like that', and that's a good thing.
"Otherwise if you took everything on board I think you would also fall flat on your face. I think it's about man-management, it's treating your players in the right way.
"It's not about throwing teacups or raising my voice as a manager because I think I have to do that, it's about being respectful, the players have to earn that respect.
"I played under David Pleat, Howard Kendall, John Barnwell, Brian Little, some decent managers with good CVs who have done really well in the game.
"From that, with my enthusiasm and my desire for the game, I do things my way."
Gateshead provide a new challenge for Mills, who has also managed Notts County and Tamworth.
Funded on a full-time basis by chairman Graham Wood, the Tynesiders have invested in playing talent with strikers Richard Brodie and Adam Boyes both prolific at Conference level.
However a quiet start to the season has brought just one win from six games, something Mills is determined to put right.
"I've had a few comments made to me this week, for instance we haven't started well, for instance we don't get a good crowd in, for instance they've played two or three systems - it's all negative, it's all in the past and I want to look forward," he continued.
"Whatever team I put out there I want the fans to support them, if I feel it needs to be changed I'll change it within the game because I get paid for.
"That's my philosophy. Enjoy it but do it a right way."
While Clough came down from the north east to stir up East Midlands football, with hugely successful spells at Derby County and Forest, Mills has gone in the opposite direction in an attempt to repeat his success with York on Tyneside.
"It's a fantastic part of the country for football, Newcastle there, Sunderland down the road, Middlesbrough - all Premier League and Football League clubs and I'm here to turn Gateshead into a Football League club," Mills said.
"That's my goal, that's my aim, I've got the facilities here to do that, everything I'd need and want and there's no excuses.
"They're fanatical, I love that, because I love football myself. There's a lot of people in football but don't really like it, but they're in it. I'm in because I enjoy the job. I love the job.
"I'm going to enjoy meeting everybody up here, they're fantastic people. I want to get to meet people very quickly, want them to know me and trust me.
"I'm more than pleased to be here as their manager, I didn't just want a job. This feels so right, I can't explain to you."