Price of Football: Walsall offering free football to under-18s
Last updated on .From the section League One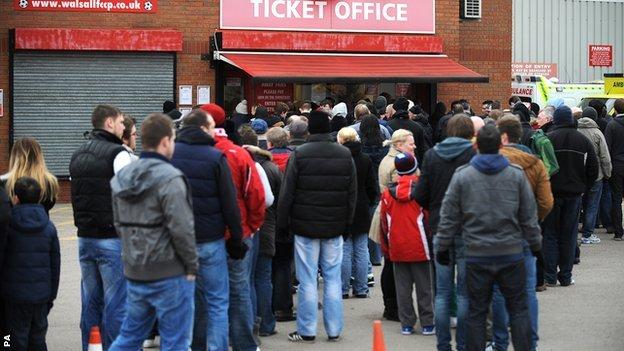 Walsall continue to offer free football for under-18s as they bid to attract the younger generation of fans.
The Saddlers are one of a host of League One clubs who offer junior incentives, the BBC Sport Price of Football found.
Preston North End have handed out 4,000 free tickets this season for children with a 100% school attendance.
Other offers include reduced-rate tickets and family-stand entertainment.
The average attendance in League One fell from 7,528 in 2011-12 to 6,465 last season and dropped from 9,949 to 9,481 in the whole Football League.
At Walsall, fans aged between 12 and 18 can pay £46 for a season ticket and receive £2 cash back on the turnstile at every home game they attend, effectively making it free for someone who goes to every match. Under-12s are entitled to a free season ticket if accompanied by a full paying adult.
"Its success has increased year on year," said club secretary Daniel Mole. "We found we had got an ageing fanbase and the breakdown of season-ticket holders was a very high percentage of fans in their 60s and a very low percentage were junior supporters.
"When we first implemented the scheme two seasons ago, our junior membership increased by 1,000%.
"In the old days, the only way you could watch football was live at the match and the club you supported was selected by where you live. Now you can pick a team anywhere in the country and watch almost all of their fixtures because of television. How can a club like Walsall compete with that? It is difficult.
"For us it is about habit-forming and we want it to become the habit to watch Walsall. If you capture a child before the age of eight, that is the team they will support."
Other League One clubs to offer free tickets to juniors are Carlisle, Stevenage, MK Dons, Rotherham, Swindon, Crawley, Crewe, Notts County and Peterborough.
Bristol City, Gillingham, Oldham and Wolves sell reduced-rate season tickets to younger fans while Brentford, Colchester and Sheffield United offer discounted match-day prices.
Bradford season-ticket holders can buy season tickets for up to two under-11s for £5; Port Vale, Tranmere and Shrewsbury have family ticket offers and clubs across the division offer other price reductions.
Leyton Orient have given away 2,000 season tickets to students in full-time education, while Preston have also teamed up with local schools.
North End's community manager Andy Haythornthwaite said: "We recognise the importance of trying to engage with the community, because they are at the heart of the club.
"We looked at a way we could support schools' work and as a result came up with the Full House scheme. If a child has 100% attendance, we send them a ticket for a child and an adult to our family stand.
"We have a new family stand, too, where there are computer consoles, face painting etc - we aim to make it a match-day experience rather than just a 90-minute football match. If we are getting the children into the ground, we want to give them something they enjoy and savour and so they come back."
The BBC Price of Football study looked at 166 clubs in 10 divisions across British football, including the Conference Premier and Women's Super League.