Rangers: New twist as boardroom battle continues
Last updated on .From the section Football228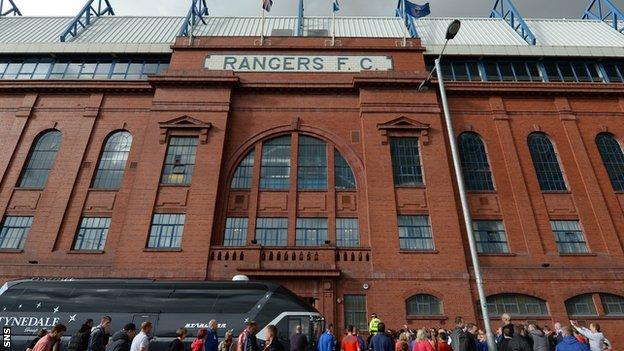 The group seeking to gain entry to the Rangers board deny agreeing to a "vote of confidence" in the current regime.
Rangers confirmed on Wednesday they would consider a request to add former chairman John McClelland and three others to their board of directors.
The club added that the "requisitioners" were not seeking to remove any of the current directors.
However, the group has now stated that shareholders deserve the right to vote on the re-election of any director.
A group of disgruntled investors led by businessman Jim McColl want former director Paul Murray, Sandy Easdale - the brother of current non-executive director James - and accountancy expert Frank Blin to join the board along with McClelland.
The group had previously called for an extraordinary general meeting in a bid to have chief executive Craig Mather, finance director Brian Stockbridge and Bryan Smart removed from the board.
But the last statement from Rangers suggested that they had signalled their intention to withdraw that request in the event that the quartet were admitted to the board.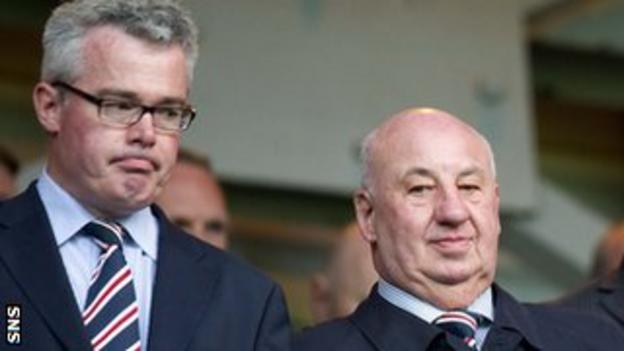 In a statement issued to the Stock Exchange on Wednesday, the club said: "The board considers that any decision on any proposal for the withdrawal of the requisition would be subject to the provision by the requisitioners of a vote of confidence and continued support for the current directors and to all necessary regulatory approvals."
But the rival group has now issued a response.
"On behalf of the requisitionists we have made it clear to the Rangers board that we are proposing the additions to the board now to enable it to operate more effectively as a balanced unit in the run-up to the AGM in October," it read.
"However we have also made it clear that, in accordance with the club's articles of association, all directors, both existing and new, have to offer themselves up for re-election at a vote at the AGM.
"We believe that this is fair and gives all shareholders the opportunity of voting for who they want on the board.
"We agreed this position with the board on Tuesday and were therefore surprised to see the statement issued by the club on Wednesday night which seemed to suggest that any agreement was conditional on a 'vote of confidence' in the current board members now and on a continuing basis.
"We wish to make it clear that this is contrary to our understanding of the agreement we had with the board.
"Whilst we believe that the proposed changes will make the board more effective and balanced, it is for the shareholders to vote on the re-election of all directors at the AGM."
The Rangers' board are seeking to avoid an EGM that could cost the club £80,000 and want discussions on boardroom changes incorporated into the agenda for the annual meeting, which is to be held in October.