Mesut Ozil: Arsenal newcomer 'a beautiful flower who is a bit frail'
By Sam Sheringham
BBC Sport
Last updated on .From the section Football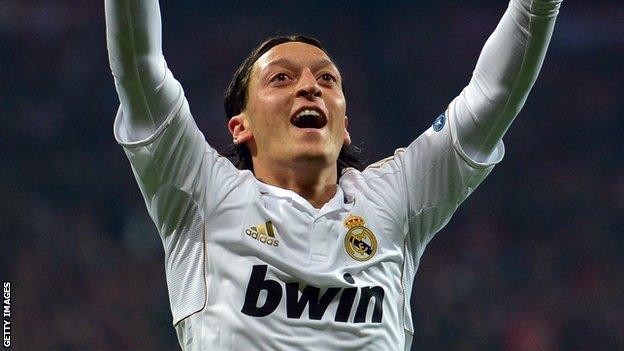 When 20,000 Real Madrid fans flocked to the Bernabeu on Monday to witness the unveiling of their latest galactico, it wasn't only Gareth Bale's name they chanted.
"Don't sell Ozil" echoed around the famous stadium, to the visible discomfort of club president Florentino Perez.
When, hours later, midfielder Mesut Ozil's £42.4m transfer to Arsenal was confirmed, the mourning could begin in earnest.
Real star Cristiano Ronaldo said he was "angry" about the Germany international's departure, while defender Sergio Ramos tweeted a picture of himself holding his now former team-mate's last Madrid shirt as he lamented the loss of "the king of the assist". A poll of Real fans in Spanish sports daily AS revealed 66% opposed his transfer.
Their disappointment is easy to understand. Over the past five seasons, 24-year-old Ozil has provided more assists and created more chances than any other player in Europe's top five leagues.
In a direct statistical comparison with Bale, also 24, Ozil is top in almost every category. While Real's higher standing than Spurs may explain his better tally of assists and chances, the German also has a superior shooting accuracy, as well as a higher completion of passes, crosses and dribbles.
"Whenever I speak to Barcelona fans about which [rival] player they would most like to have in their team, the one who would merge most fluently with their style, they always say Ozil," Spanish football expert John Carlin told BBC Sport.
"He's got a very quick football mind and is immensely skilful. He is one of those players who needs less time than other players. His exquisite touch gives him that extra fraction of a second to look up and see the gap and put the ball there for a goalscorer."
Ozil's national coach, Joachim Low, described Real's decision to sell the player as "incomprehensible".
Carlin, who wrote a book about Real Madrid during David Beckham's time at the club and pens a weekly football column for Spanish newspaper El Pais, believes the explanation for Ozil's sale lies less in manager Carlo Ancelotti's tactical plans, and more in Perez's impulsive nature.
"Perez is extremely capricious," said Carlin. "An avid art collector, you could give him all the Picasso and Dali paintings in the world, and he would still want to buy up the Miros.
"He has this acquisitive lust. And so, when [21-year-old Spain international] Isco came on the market, Real didn't really need him, but he is beautiful and Perez knew that if Real didn't buy him, someone else would.
"Once he was bought, there was always going to be pressure on Ancelotti to make sure Isco played, even though Ozil is much more the final product. When you throw Bale and [Croatia midfielder] Luka Modric into the mix you have a problem, and something had to give."
That something was Ozil, the son of Turkish immigrants, who grew up in Gelsenkirchen playing football on a fenced-off gravel pitch known as "the monkey cage".
Having come through the youth system at Schalke, Ozil moved to Werder Bremen in January 2008 at the age of 19 and helped the club reach the Uefa Cup final.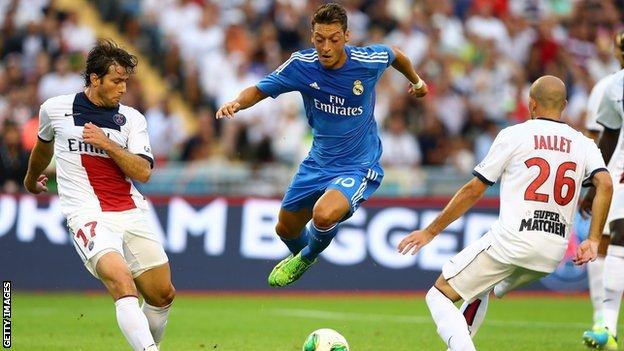 English audiences got their first glimpse of him during the 2009 European Under-21 Championship, when he was a key part of the Germany side that destroyed England 4-0 in the final.
"Even at the age of 17, Ozil was already making scouts very excited, but that tournament was the real breakthrough," recalls Tor-Kristian Karlsen, who spent 15 years working as a scout for leading European clubs, including German side Bayer Leverkusen and Zenit St Petersburg of Russia.
"He was absolutely outstanding and that really established him in people's consciousness. He was part of a very, very exciting generation of young German players who were quickly catapulted into the national team."
Ozil was an instant success at full international level, starring in Germany's 4-1 victory over England and 4-0 demolition of Argentina at the 2010 World Cup to earn himself a place in Fifa's team of the tournament and a move to Real Madrid.
When he wasn't setting up goals for Ronaldo and helping Real topple Barcelona to win the league title in 2011-12, Ozil lived a quiet life off the pitch, avoiding the Madrid celebrity circuit.
A practising Muslim, he recites the Koran before matches and observes fasting during Ramadan as much as his sporting commitments allow.
At Arsenal, Ozil will join international team-mates Per Mertesacker and Lukas Podolski, and a German-speaking manager who shattered his club's transfer record to sign him.
Ozil says the faith shown in him by Arsene Wenger persuaded him to move, and according to Carlin, the set-up at the Emirates should be ideally suited to a player who needs to feel wanted.
"If there is one doubt about him, he is a player who can sometimes drift out of the reckoning in games," said Carlin.
"He needs a lot of love from the manager. He is a beautiful flower who is a bit frail, but if he is well looked after, he will deliver."
Ozil's signing prompted an ecstatic reaction from Gunners players and fans. Podolski, Santi Cazorla, Jack Wilshere and Aaron Ramsey have all tweeted enthusiastically about their new team-mate, while shirt sales at the club's online shop are 12 times higher than usual.
Karlsen, who left his post as Monaco chief executive in March, believes Ozil is a "great fit" for the Londoners. He is concerned, however, by over-inflated expectations that even a player of Ozil's pedigree could struggle to live up to.
"Ozil's game is all about finesse, intuition and creativity so Arsenal's style is ideally suited to his talents," said Karlsen.
"But we have to give him time because English football is very different to what he is used to. Players are more aggressive and will deny him the space he is used to in Spain.
"He is one of many top attacking midfielders who have joined Premier League clubs in the transfer window, including Willian at Chelsea, [Stevan] Jovetic at Manchester City and [Erik] Lamela at Spurs. Only time will tell whether Ozil can prove himself the best of the bunch."
Mourned in Madrid, already adored at Arsenal. Ozil has a lot to live up to.