Ilkeston FC: How going back to school saved an ailing club
By Andrew Aloia and Owen Phillips
BBC Sport
Last updated on .From the section National League
Less than three years ago, a previous incarnation of Ilkeston FC were within days of devastation.
How things can change.
Fast forward 33 months and they have just hosted a Chelsea side oozing with young talent in a pre-season friendly, are making huge strides in the non-league pyramid, and have a set-up that is the envy of many Football League clubs.
The club's ambitious new model - which is based on combining academic development with full-time football - takes the concept, made famous by Barcelona and Ajax, to a whole new level.
It is more about making well-rounded people than total football. And the set-up is of particular interest as it showcases the possibilities within the non-league game ahead of the ever-growing Non League Day on Saturday.
For manager Kevin Wilson, who survived Ilkeston Town's extinction to remain in charge of the Robins, admits that investment in youth was the club's only future.
The former Chelsea, Derby and Northern Ireland international striker said: "The chairman and I had the same philosophy - we wanted the football club to be built on the younger players."
The chairman happened to be managing director of SR Education Dave Mantle, who helped implement the Advanced Level Apprenticeship in Sporting Excellence (AASE) in the Premier League nearly a decade ago.
Not only did SR Education's purchase of the non-league club ensure their salvation, it brought a revolutionary change to how they do business.
Nowhere is the link between the books and the boots more obvious than pitch-side where classrooms line the New Manor Ground.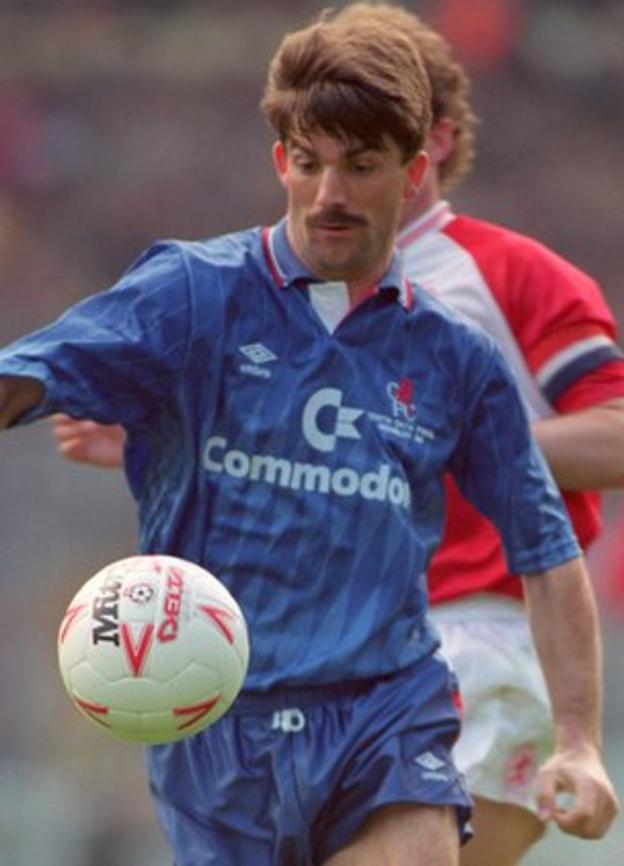 Wilson along with his assistant - former Tottenham, Reading and England Under-21 midfielder Darren Caskey - head the academy, while former Mansfield Town manager Paul Holland oversees the academic side.
Robins general manager Nigel Harrop said: "We are a football club which puts education on par.
"The academy is part of the fabric of the club and the way it's been set up makes it part of our lifeblood.
"This is not a bad outcome from the fire we came through. Like the phoenix that rises from the ashes, I don't think anybody could have expected to see what we have done or see us where we are now."
The operating losses of around £300,000 to the year ending July 2012, along with the original purchase price of the club from liquidators, building of the new classrooms and upgrades to the ground amount to SR Education's investment and comes direct from the company's profits.
Funding that the academy generates also flows back into the club, with the programme that started with 28 apprentices now growing to 50 scholarship holders.
It is not just off the field that the club has been scoring goals, they have done a decent job of it on the pitch as well, having sealed promotion to the Northern League Premier Division in their first season.
Wilson said having a Chelsea side - boasting £3m man Cristian Cuevas, as well as highly rated youngsters like Nathan Ake, Lewis Baker and Alex Kiwomya - pay them a pre-season visit was testament to their work in Derbyshire.
"To have Chelsea here is fantastic for the football club and that shows that people are looking at us in a good way," said Wilson, who scored 42 goals in 152 games during a five-year spell at the Blues.
"For us, that game was an education - for me and all the young players. That is why everybody played - every substitute was used and they got great exposure."
It is fitting that a club saved from ruin now prides itself on being a place where players are given every chance to succeed.
Sometimes that means picking up the pieces of broken dreams and, at other times, it is helping players get into university.
"We are about second chances," Harrop said.
"It can also be a third or fourth chance as we take players who have been released by other clubs, sometimes having been told they won't make it at the age of 16.
"There is a team of us at every exit trial and we know that we might not be the first choice of a player that is looking for another chance, but we believe in what we can offer.
"They can see that we do things right lower down the scale. Sometimes people might think that non-league is Mickey Mouse stuff, but we have a good number of academy players and graduates in our first-team squad and others have gone on to get jobs, work within the club and have gone on to play in League football."
Lining up at football's equivalent of a cattle market exit trial is a world away from the £600m of transfer spending done by Premier League clubs during the summer.
"We are not going to go out and spend thousands of pounds to go and get people in; we are going to do it the right way - nurture our own kids and bring them through," Wilson said.
And yet the Derbyshire club pride themselves on the deals they have done.
It is not just youth that see Ilkeston as a smart move, with former Burton Albion duo Aaron Webster and Chris Palmer joining the club on non-contract terms.
Tyrell Waite, 18, who forever endeared himself to the Robins faithful by scoring the club's first competitive goal after their reformation, joined Notts Country after a successful trial with the League One club.
Bermuda striker Rai Simons, 17, was snapped up on a two-year scholarship and Callum Chettle, 17, son of former Nottingham Forest player Steve, has signed a one-year contract. He initially joined the Robins after being released by the Forest academy.
Simons is the latest from the North Atlantic island to join the Robins as part of the club's burgeoning link with the Bermuda Football Association through their academy.
Just as Barcelona did when they plucked Lionel Messi from the working-class streets of the Argentine port city of Rosario, Ilkeston's academy is eager to recruit from abroad.
"Young players can see that they can get a shot with us and that they are in the shop window here," Harrop said.
"We offer a different avenue and I'm sure there are players here that will go on to the Football League and be successful."