Michael Laudrup believes Alvaro Vazquez completes Swans' squad
Last updated on .From the section Football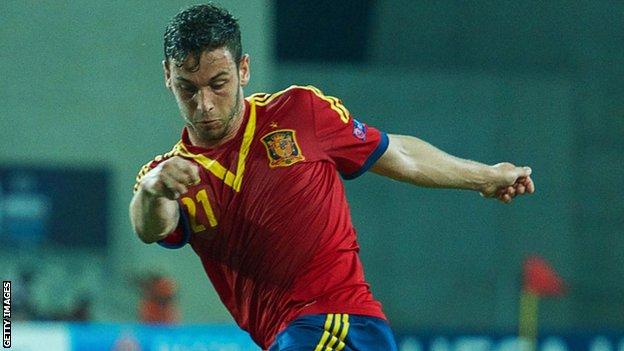 Swansea City manager Michael Laudrup believes the signing of striker Alvaro Vazquez makes his squad "complete" for a busy season ahead.
He will join fellow strikers Michu an Wilfried Bony in a Swansea squad facing more than 50 games this season.
"I am pleased with the squad. I think it's a very strong, complete squad," said Laudrup.
"We have the squad that we want. We have a lot of alternatives and possibilities and line-ups in different games [and] during games.
"I'm looking forward to the seeing this complete squad we have now. We have a lot of possibilities but we also have a lot of games as well.
"We already know that we will play more games than last year. It will be at least 50 and it could be mid-50s or even more."
As well as the Premier League and two cup domestic cup competitions Swansea City also have a Europa League campaign.
Laudrup has admitted that he was interested in signing new Cardiff City striker Peter Odimwinge - but the Swans could not compete with the Bluebirds' offer.
"We had five or six players that we were looking at and it is true Odimwinge was one of them, but in the end we could not compete with the offer so in the end was easy [so we signed] Alvaro," said Laudrup.
Vazquez, 22, was an integral part of the Spanish Under-21 side that clinched the European Championship crown in 2013.
He was also joint top-scorer at the Under-20 World Cup in 2011.
Vazquez came through the ranks at Espanyol before securing a move to Getafe last summer.
Laudrup managed Getafe and led them to the Copa del Rey and the quarter-finals of the Uefa Cup before he resigned after only a year in charge in 2008.
"I am certain he can do well for us. [He has] different characteristics than Bony and Michu.
"He is a player that I know and I think he is a player who can give us what we are looking for.
"I'm looking forward to seeing how Alvaro fits in here because he gives us some other things. We need sometimes pace to get our team forward. He is a player that can give that."