Michael O'Neill says Windsor Park redevelopment is essential
Last updated on .From the section Football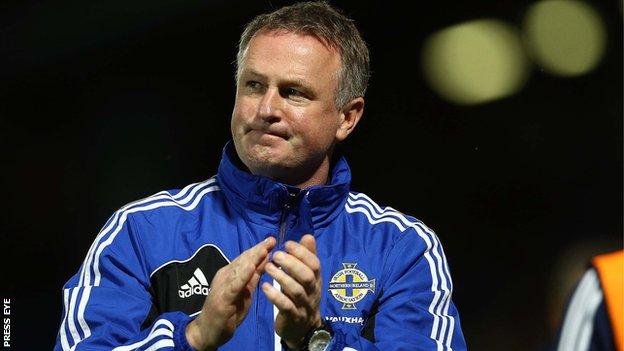 Northern Ireland manager Michael O'Neill says it is vital the redevelopment of Windsor Park goes ahead without any delays.
The upgrade of the stadium has been dogged by controversy but O'Neill has stressed the importance of upgrading Windsor's out-of-date facilities.
"It is essential for football in Northern Ireland," said O'Neill.
"The plans look great and it could become a ground which everybody is proud of."
Team manager O'Neill added: "When you travel around Europe you see small countries, not just the larger ones with stadia which are fantastic, modern and a great environment for fans and players - we have to have that.
"I just hope things are resolved and the project keeps moving forward."
There had been concerns the work, which involves building two new stands at the south Belfast venue, could be held up by a legal dispute.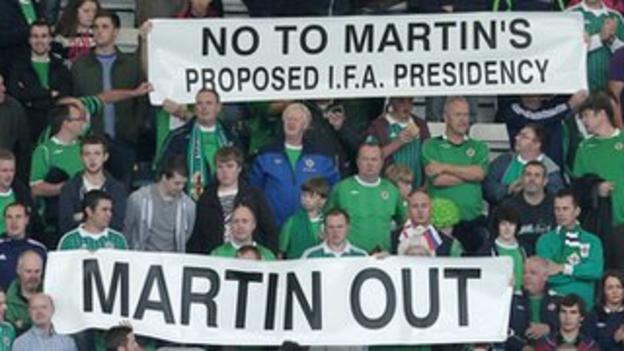 Irish Premiership club Crusaders took High Court action, claiming the £26m of government cash being ploughed into the new-look stadium would give their rivals Linfield an unfair advantage in the domestic league.
That case was settled out of court - but this week another snag arose with the appointment of Amateur League official David Martin as vice-president of the Irish Football Association.
Members of the IFA's council unanimously backed Martin for the position - even though he had been forced to resign from the same post three years ago and had subsequently failed a suitability test for senior office.
Martin's 2010 resignation was a result of his role in the unfair dismissal of Howard Wells as IFA chief executive, something which cost the association £500,000. The then president Raymond Kennedy also had to stand down.
The government department funding the Windsor work has expressed concern over the IFA's scrapping of the requirement for suitability assessments earlier this year.
The Department of Culture, Arts and Leisure called it a retrograde step, and one which could breach the funding agreement for Windsor Park.
Some Northern Ireland supporters have recently staged public protests against Martin's return as a senior IFA officer.
On Wednesday, senior Northern Ireland player Gareth McAuley publicly voiced his concern about the issue.
"The election of David Martin is a very worrying development for Northern Irish football," said McAuley on Twitter.
Martin is a long-serving officer of the Northern Amateur Football League which has 94 IFA-affiliated clubs.
He could be a candidate for the IFA presidency in 2015 when present incumbent Jim Shaw's five-year term is due to end.
The stadium redevelopment work will see two new stands at Windsor Park, plus the refurbishment of two others increasing the capacity from 12,000 to 18,000.
Also planned are new lights, under-pitch heating and drainage, a museum and conference facilities.